Founded in Nürnberg, Germany in 1886, bicycle-maker Victoria added motorcycle manufacturing to its portfolio towards the end of the 19th Century. The firm used proprietary engines initially before acquiring the means to make its own in the late 1920s.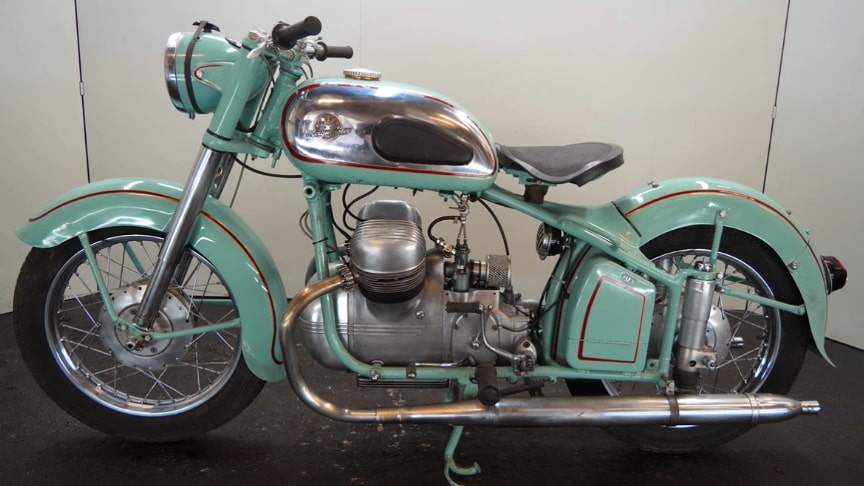 source/image(PrtSc): classic-motorcycle.com
Small-capacity two-strokes formed the mainstay of production immediately after WW2 and then in 1951 Victoria announced its first four-stroke model of the post-war era: the V35 Bergmeister (Mountain Master) though a lengthy and expensive development process mean that deliveries were delayed for a couple of years.
Designed by Richard Küchen, the V35 was powered by a transversely mounted v-twin engine, and featured shaft final drive, and an unusual four-speed, chain-and-sprockets transmission (there are no gears in the 'gearbox') an arrangement Küchen had used while employed by Zündapp in the early 1930s.
Advertisement
Modern for the times, the V35 boasted plunger rear suspension, a telescopic front fork, and excellent full-width alloy brakes.This Victoria with her 64 ° V-twin presents itself in the old glory. The toolbox at the rear right is available and will be handed over with the motorcycle. The machine runs fine and has an unmistakable V2 sound.via: classic-motorcycle.com