Fr. Becker's Imperia factory at Cologne, Kölner Motorrad und Maschinenbau (K.M.B.), initially built 247cc and 347cc ohv Blackburne-engined machines and also versions with the 490cc single-cylinder ohv JAP, but most had Swiss MAG power units of 346cc, 496cc, 596cc, 746cc and 996cc.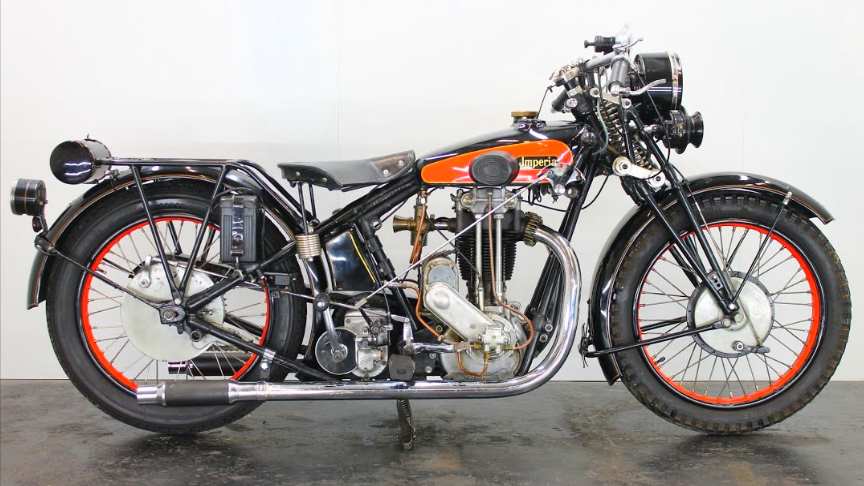 source/image(PrtSc): classic-motorcycle.com
The Imperia Python machines were widely used in competition. 1933 saw the introduction of Villiers-engined models of 150 & 200cc. Locally sourced Bark two- and four-stroke engines were employed in several models, and Rolf Schröldter designed a range of new and very unconventional two-strokes./ classic-motorcycle.com
The first was a 348cc double-piston single with the pistons running in opposite directions and a single sparkplug in the centre, based on a Junkers patent. There were really two crankshafts, one on each side of the cylinder. They were connected by a chain and on top was a supercharger.
Advertisement
This Imperia is an older restoration and is fitted with a lighting set + additional Hella headlight, Bosch horn, Bosch MagDyno, B&B Fischer carburetor, Steering damper, Ammeter, Hurth gearbox, original petrol level gauge and with a dealer plate it reads "Bendixen & Lindhard". This bike with its 500cc ohv MAG engine runs powerful and fine.//classic-motorcycle.com
Manufacturer: Imperia
Model: H
Year: 1929
Displacement: 500 ccm
Cylinder: 1 – MAG
Engine type: 4-stroke / ohv
Bore / Stroke: 82 x 94 mm
Power: 22hp
Top Speed: 125 km/h