A cool look at a Coast Guard Rescue of passengers off of a sinking yacht. The rescue was conducted by the Hellenic Coast Guard off the coast of Skyros, Greece when the 39 million dollar Megayacht Yogi mysterious sank. I'm sure the passengers and crew were grateful for the aerial rescue so they didn't have to test out those bright orange cold water survival suits.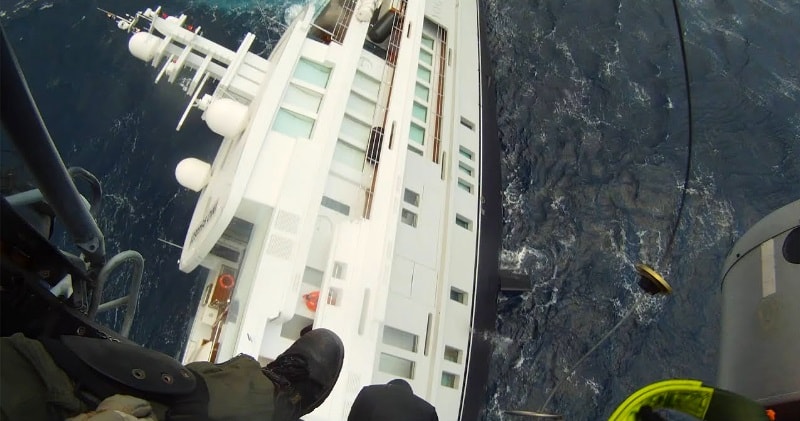 image/credit : GoPro
The yacht is said to have taken on water between the islands of Skyros and Psarra. Eight people on board were rescued from the stricken ship. Circumstances of the sinking remain unclear, but according to the Daily News, the yacht "suffered mechanical failure in gale-force winds" and was aided by Air Force helicopters, a Navy frigate, the coastguard and four commercial ships.
According to reports appearing in both the mainstream media and the yachting press over the following weeks, an engine-exhaust issue of some sort precipitated a succession of events onboard that culminated first in a Mayday call at 0330 and then in an unthinkable catastrophe.
Advertisement
Yogi, adjudged the most innovative yacht of the year only a few months before at the Cannes International Boat Show, sank at 0845 on the gray morning of February 17th, just 19 nautical miles east-southeast of the island of Skíros, in approximately 300 fathoms, after at least five hours of taking on water while laying ignominiously awash. Shortly before she went down, her last crewmember was plucked to safety by a Hellenic Air Force Puma helicopter.