The new X‐Cursion Van EDITION is WEINSBERG's first VW‐based special model. The 2022 Weinsberg X-Cursion Van 500 MQ by Weinsberg VW T6.1 100kw/150ps offers an impressive range of exterior features such as ear Crank Supports, Bike Rack – Thule Elite G2, Thule Garage Organiser, Awning Light LED.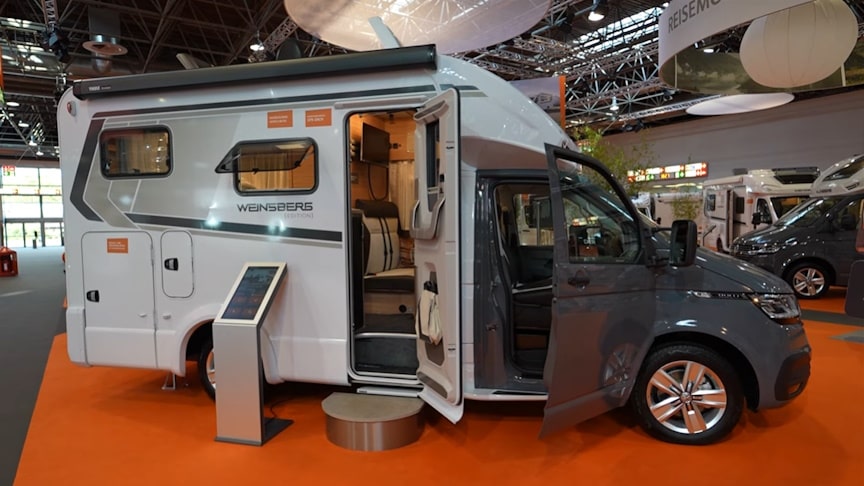 source.image: miniCampers
The X-Cursion Van 500 MQ is under 6m in length and only 2.16m wide slim for a coachbuilt motorhome. That's still quite a bit bigger than a T6.1 camper and taller, too, of course.Externally, it's a low-profile motorhome with a generous overcab sunroof, running board-style steps for the front doors and an unusual duo-tone finish.
VW T6.1 5.88 metre vehicle length Compact exterior dimensions and 2 metre interior width Two unique and innovative layout solutionsThe kitchen includes a 98-litre compressor fridge that can be reached from outside, if you lean in through the door.Forward of the kitchen and ablutions, the floor steps down into the lounge where you'll find that UK favourite of two side settees.
Advertisement
You might expect the lounge to also form the bed and that's the standard configuration but this show model had the optional Easy Move bed, which pulls out on rails from over the cab. This lengthways double measures 2.00m long and 1.46m wide and lives up to its title in being super-simple to operate.