Ice fishing has been around for generations. Over the past 20-30 years, Innovations has made the sport easier, more enjoyable. Thus, we are seeing wonderful growth in the industry.Wilcraft takes Ice Fishing Vehicle to a whole new level; there are 4 aspects of the sport Wilcraft greatly improves upon. They are Convenience, Mobility, Safety, and an Extended season.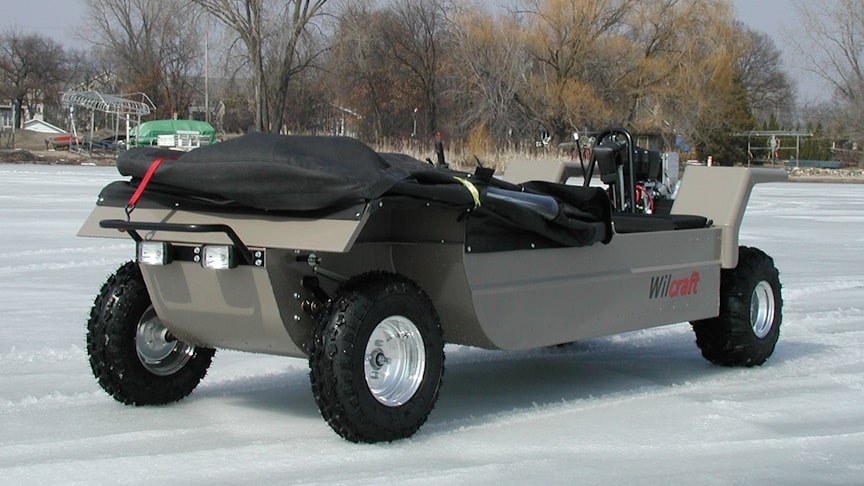 ​All your gear is in the vehicle, set up and ready to go. Just step in and drive.The WILCRAFT is powered by a 26.5 HP Kohler EFI 4 stroke gas engine and a Hydrostatic drive system.
The Hydro weighs in at 740 pounds with a 26HP engine. It boasts a hydrostatic transmission and bigger tires that proved their worth quickly Wednesday. The original WILcraft putters modestly in the water; the Hydro seemed to provide real thrust.
Advertisement
A complete ice fishing, hunting, and open water system offering convenience, mobility, safety and accessibility.The insulated enclosure and custom seats offer greater comfort and warmth.
The 32″ tires and ski combo on the 2WD models dramatically increase your snow ability. The added buoyancy and tread of these tires aids in the water to land maneuver.Powder-Coated .100 Aluminum Construction body.Reinforced with 2"x4" full length floor ribs for strength .Powder coated mechanical components.1150 lbs. approx vehicle weight.675 lbs. capacity.