1977: Let's Slap an 8-Track in the Player and Fly, Fly AwayIt's hard to imagine a crazier mismatch than the energy-challenged 1970s and a gas-guzzling, flying camper, but Winnebago's Heli-Home (aka the Heli-Camper) was a real thing forty years ago.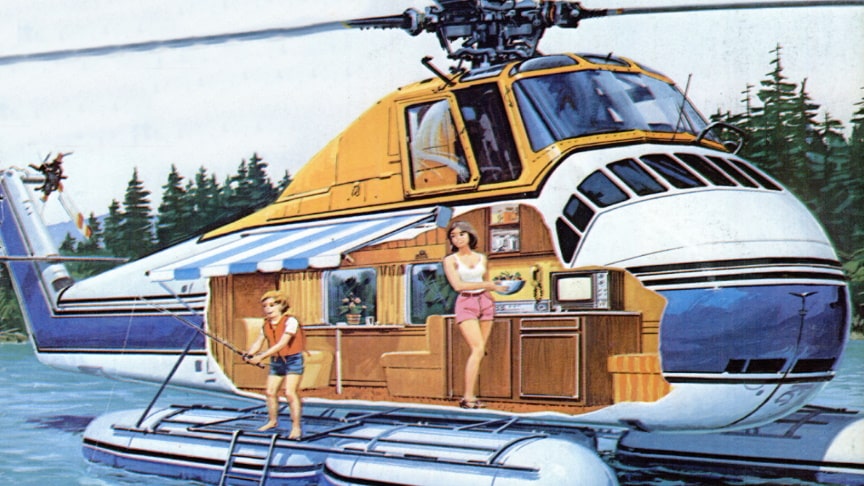 source/image(PrtSC): whatifmodellers
Ads touted it as "the most dramatic, comfortable, convenient and unique RV in the world." The Heli-Home had room for six passengers and packed a complete, if tiny, kitchen and living space into its 115 square feet. Entertaining aloft was a must — the Heli-Home was equipped with a TV, a mini-bar, and an eight-track tape deck. This was the 1970s, after all.
Fewer than ten Heli-Homes were sold. Maybe its hefty price tag ($185,000 and up) and its greedy gas mileage — 75 gallons an hour — had something to do with that. But the contraption attracted a lot of attention at RV shows and dealerships and it got attention from TV news crews, as demonstrated by this WTVJ news clip from 1977.
Advertisement
Subscribe to the Lynn and Louis Wolfson II Florida Moving Image Archives' YouTube channel and tune in to the fascination and fun of Miami and Florida's past, captured on film and video and preserved by the Wolfson Archives at Miami Dade College.This video and audio is copyrighted/owned by the Lynn and Louis Wolfson II Florida Moving Image Archives at Miami Dade College.via/read more: wolfsonarchive