Embark on a personal tour with Sydney, as she welcomes you into her meticulously designed Ford van, a mobile home that not only travels but also tells a tale of transformation, dreams, and dedication.With a blend of DIY spirit and professional help, Sydney's van is a beacon of what's possible when you dream big – a rolling residence that doesn't just move, but moves others with its story.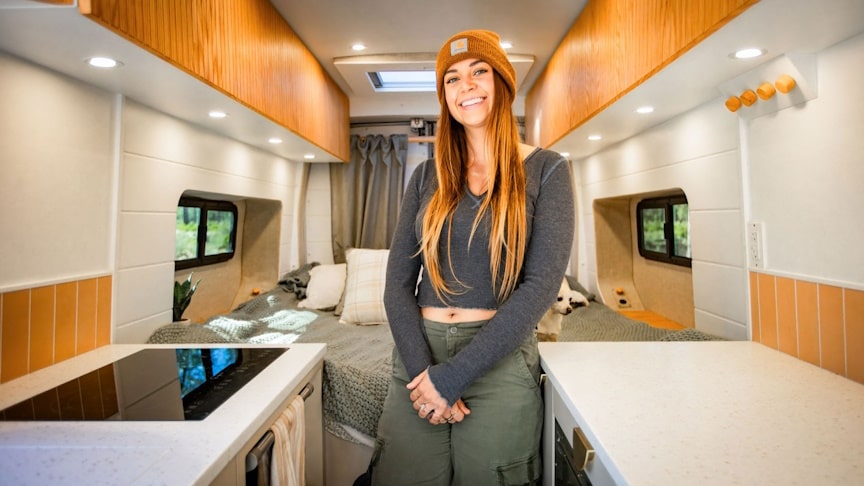 source.image(PrtSc): Tiny Home Tours
After spending $75,000 on the van and another $100,000 on the build, Sydney's home on wheels boasts a sleek kitchen with a deep sink, an induction stove, and a locally sourced marble-like countertop. A testament to her commitment to quality and style, the van features smart storage solutions, including a hidden heater and a specialized coffee station.
Discover the harmony of form and function in her space, with red oak cabinets that offer a seamless look, and a bed that's almost king-sized, catering to comfort without compromising on style. The van's design elements, from toe-kick lighting to textured walls, add layers of sophistication to the compact living space.
Advertisement
Sydney's van is equipped with a Webasto heater, a Vitrafrigo fridge upgrade, and an electrical hub tailored for her gear. With 600 amp hours of solar power and a single 380-watt panel, her home is a marvel of sustainable living.From her beginnings in Indianapolis to life in Chicago, Sydney's wanderlust was sparked by the van life movement. Her previous van experiences laid the groundwork for this ultimate creation, where she now enjoys financial freedom as a content creator.via: Tiny Home Tours