NS 50 Let Pobedy translated as 50 Years of Victory or Fiftieth Anniversary of Victory (referring to victory of USSR over Nazi Germany in the Great Patriotic War), is a Russian Arktika-class nuclear-powered icebreaker.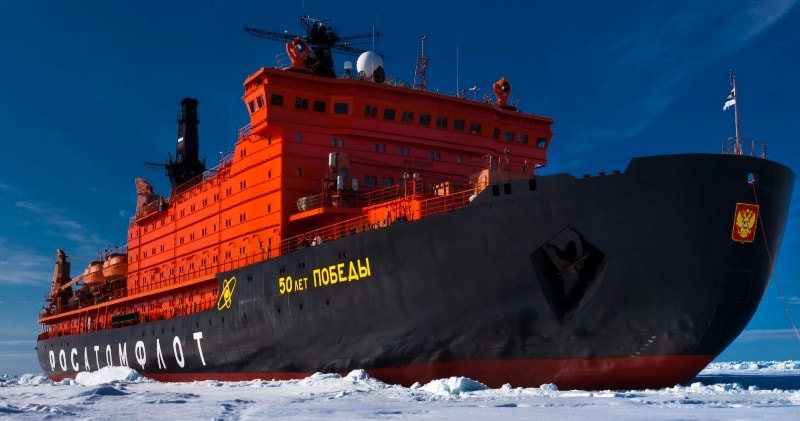 source/image: Amazing Planet
Twenty years in the making, 50 Years of Victory is the first Arktika-class icebreaker to have a spoon-shaped bow, capable of breaking through ice up to 2.5 meters (9.2 feet) thick! This is one of the world's largest, most-powerful nuclear icebreaker.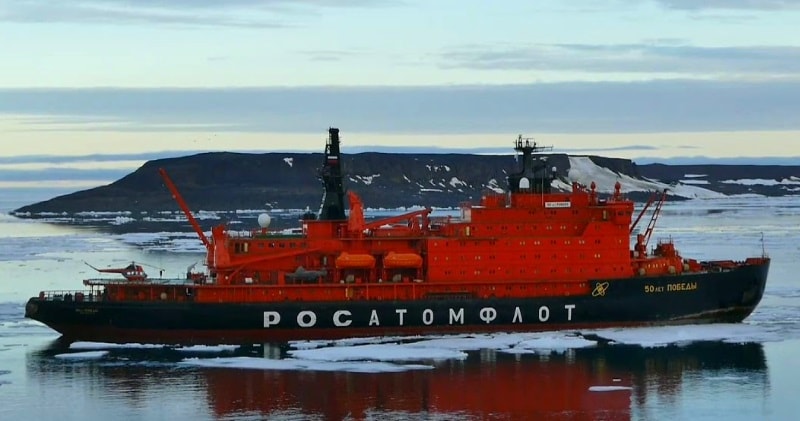 source/image: Amazing Planet
Complete with a helicopter for shore excursions, Victory is a ship unlike any other, with the ability to go where other ships cannot.With 75,000 horsepower, a thick armour of steel plate and specialized icebreaking design, the Victory is one of few surface ships capable of reaching the North Pole. Ice may be broken while moving ahead or astern.
Advertisement
The vessel is driven by three propellers, each with four seven-ton blades. Its two nuclear reactors, which provide the steam for propulsion, are encased in 160 tons of steel, high density concrete and water. Double vacuum stills produce five tons of fresh water per hour.
The Victory is equipped with the latest satellite navigation and communication equipment, including telephone, telex and fax.
Ship Specifications
Staff & Crew: 140
Guests: 128
Length: 160 m
Breadth: 30 m
Draft: 11.08 m
Propulsion: 2 nuclear-powered steam turbines – 75,000 total horsepower
Ice Class: LL1 (The highest possible rating)
Cruising Speed: 21.4 knots in open water
Lifeboats: 4, fully enclosed