This is how CALIFORNIA pizza team made the world longest pizza beating the world record held in Naples of 1.853,88 meters, so as June 10 – 2017 the WORLD RECORD is held by LOS ANGELES, with a pizza made of 2.130.00 meters (feet 6,333) long.
images/text credit: vito iacopelli
Huge amounts of ingredients required for World's Longest PizzaIt was reported that around 8,000 pounds of pizza dough were used along with 5,600 pounds of sauce and 3,600 pounds of tasty, melt-in-your-mouth cheese.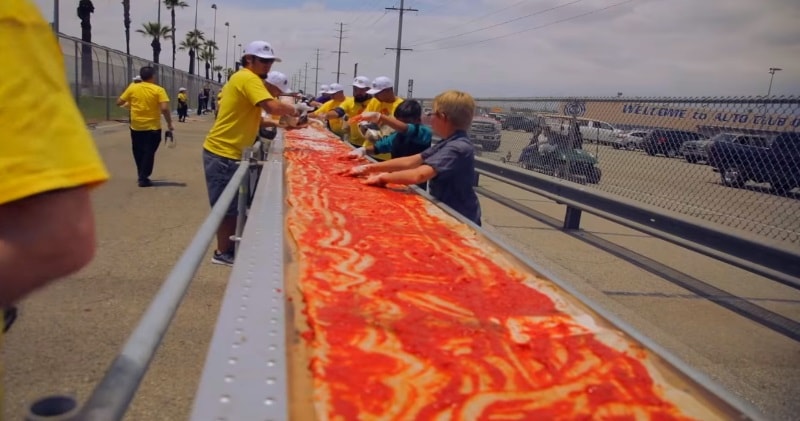 images/text credit: vito iacopelli
According to a report by Economic Times, the pizza was set, in all its lengthy glory, on one of the largest scaffolding units ever produced and the final product weighed in at an impressive 7,808 kg.
Advertisement
The professional and hardworking chefs used three industrial pizza ovens to achieve their feat, working non-stop for eight hours. Reportedly the pizza ovens needed to be moved every 17 minutes by volunteers in order to cook the entire length of the record-breaking pie.
Dozens of chefs and people worked at the Auto Club Speedway of California in Fontana to make the pizza, which broke the previous record when it reached 6.333 feet or 1.93 km in length, as certified by representatives from the Guinness World Records.