The Antonov An-225 Mriya is a strategic airlift cargo aircraft that was designed by the Antonov Design Bureau in the Ukrainian SSR within the Soviet Union during the 1980s. It is powered by six turbofan engines and is the heaviest aircraft ever built.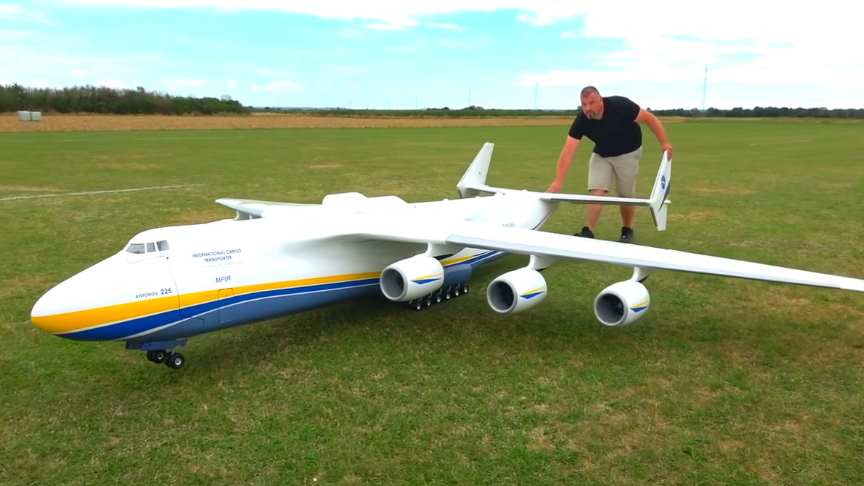 source/image(PrtSc): DIGITAL RC
There is only one An-225 in the world; It was built to transport the space shuttles of the Soviet Buran program, making it equivalent to NASA's Shuttle Carrier Aircraft. video by: DIGITAL RC
This RC Antonov is built by Marc Speir with a scale of 1:16, it has a wingspan of 5.8m, a length of app 5.3m. The airplane is powered by 2 Behotec JB-180 gasoline engines and 4 90er EDF 6s electric fan engines, the airplane has a take off weight app: 93.5kg, all of the engines together produce thrust app 47kg.
Advertisement
Based on Antonov's earlier An-124, the An-225 has fuselage barrel extensions added fore and aft of the wings. The wings also received root extensions to increase span.
Model: Antonov AN-225
Pilot: Michael Speier
Scale: 1/16
Wingspan: 5,80 m
Length: app 5,30 m
Take-off weight: 93,5 kg
Engine: 2x Behotec JB-180 / 4x 90er EDF 6s (8 kg thrust)
Total thrust: 47 kg
Event: Euroflugtag Rheidt, 2019, Germany