When Sebastian and Celine Parker bought their San Francisco home, they needed to turn the space above the garage into an apartment to help pay the mortgage. As a designer and woodworker Sebastian spent two years carefully designing each piece of furniture so the 460-foot-space would feel open and light.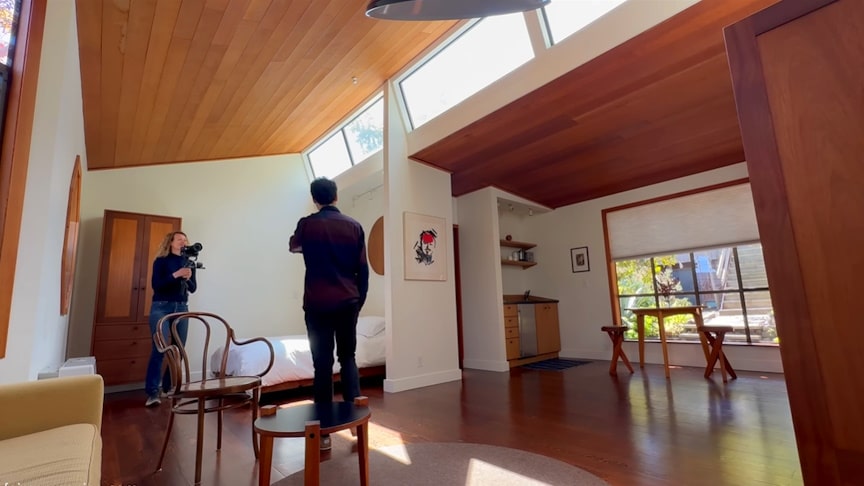 source.image: Kirsten Dirksen
Hoping to create physical space that would give rise to an uncluttered mental state, he left a lot of empty space in this tiny flat. Sebastian is very influenced by a Japanese aesthetic: he created shoji screens for the octagonal windows, and he fiercely protects negative space. "It allows for space creatively, so I feel like I can really think clearly if I'm in a space like this".
High ceilings and clerestory windows flood the place with light so that each piece of furniture takes on a life of its own. Sebastian has even named some of the pieces, like the two armoires that he calls Laurel and Hardy, for their radically different shapes.
Advertisement
He built a kitchenette and an all-wood bathroom using lumber from an old hot tub. The build happened after hours spent sitting and observing the space. In this way, the home is never done, and he expects to continue building to suit an evolving environment. For Sebastian, this is an ideal, though unrealistic, setup for everyday life as a father. "When I was a bachelor, this is how I lived. I just didn't have all the custom furniture, but I've had to learn to function in this world without this because I have two kids with very different ideas of how space should be inhabited." He still escapes here for respite.