In this video from The SEMA Show 2022 held in Las Vegas NV, I catch up with one of the Ringbrothers latest creations, The 1972 Chevrolet K5 Blazer they named Bully!! Let me start by saying the only thing that is a part that would fit a 1972 Chevrolet K5 Blazer is the windshield.Every other part is custom and most are made from Carbon Fiber.The Ringbrothers 72 Chevrolet K5 Blazer is cover in a silver blue shade of color.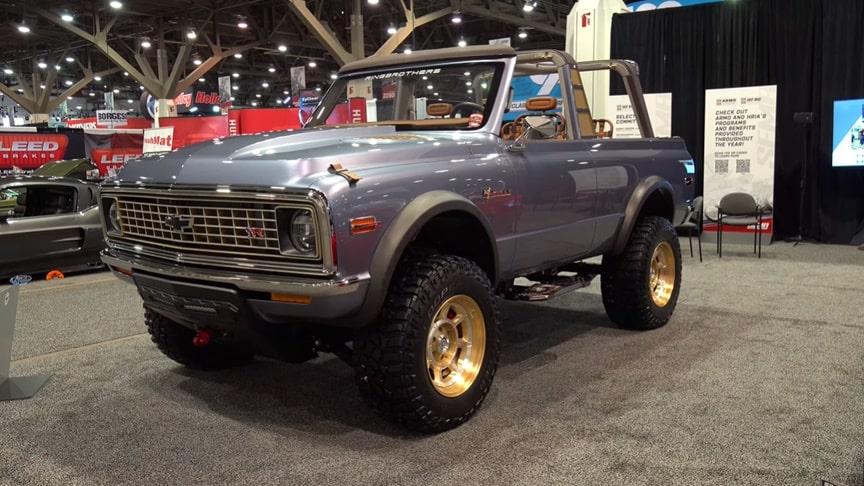 source/image: ScottieDTV
A nonaggressive color on a very aggressive truck.A wolf in sheep's clothing kinda thing. The interior is all custom and very different from anything that has ever been done before.It's covered in a tan color leather..And You will just have to see it from there.like I said way different from anything else ever done and very hard to put into words. Wheels are always a personal choice and no one set will please everyone.
The custom one off gold colored wheels Jim and Mike Ring chose for the K5 Blazer work well with the rest of the build and the color of the body. Under the all custom hood is a cleanly installed supercharged LS3 putting out over 1000 Horsepower, a very trick intake and a ton of other custom touches. Suspension and brakes are all custom made for this 1972 Chevrolet K5 Blazer and is built to the same level as the rest of this K5 Blazer.
Advertisement
There is so much going on with this Ringbrother's 1972 Chevrolet K5 Blazer "Bully" you just have to see it to believe it.Oh! did I mention it has dual T-Tops!?!? lol Yes.there are 4 removeable roof panels giving it T-tops over the front and back passengers.SMH.I wasn't sure that this 72 Blazer would be something I would want to cover…I don't do a lot with off-road 4 X4 stuff.But I should have know if the Ringbrothers were involved.It was going to be cool..The Ringbrothers 1972 Chevrolet K5 Blazer "Bully" from The SEMA Show 2022.