At the first sight of this H75 engine, i think some of you have already recognized that it's a miniature Caterpillar Holt 75 engine.The gasoline Holt 75 Caterpillar was the best-selling of the Holt "tractors" with a chassis running on crawler tracks from 1910s to 1920s for agricultural and military purposes.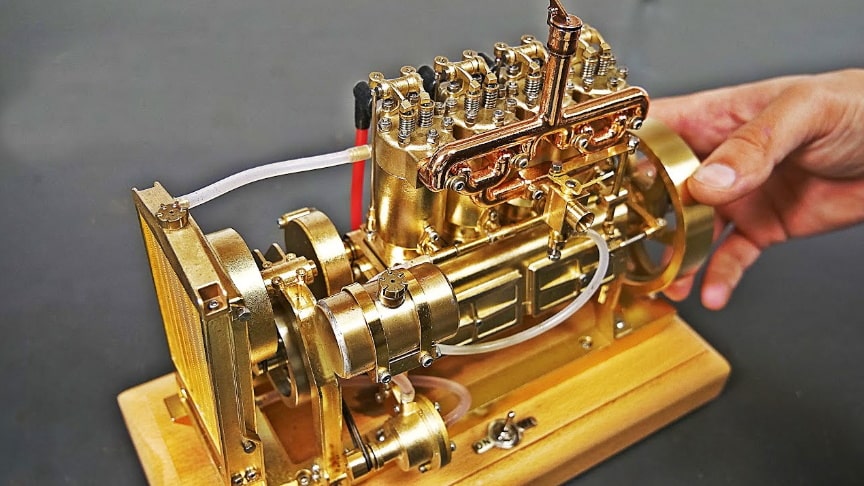 source/image(PrtSc): JohnnyQ90
The engine in this video is Holt H75 Tractor Engine Gas 12cc Four-cylinder OHV Engine Scale Model with Governor.This is a vertical four-cylinder gasoline engine with vintage appearance and design with a mechanical limiter, which allows the engine to stabilize a set speed. The engine is cooled by water circulation, with a heat sink, water pump, and fan. Equipped with ignition system, using 4.5V (AA battery *3) power supply.
This is a perfect mechanical handicraft. It is made of brass and stainless steel. It is assembled and positioned on a wooden base. It is ready to run at any time. It can work normally after refueling. You will marvel at it and feel the unique charm brought by the mechanical operation of the engine.
Advertisement
This is an excellent personalized toy for mechanical and model enthusiasts, it will accompany you to spend leisure time. It can be used as a collection, or as a gift for personalized high-end model gifts at Christmas and birthdays.
Material: Brass+ Stainless Steel + Bamboo
Engine Size: 230 X 100 X 180mm
Wooden base size: 250 X 120 X 30mm
Displacement: 12CC
Bore: 13mm
Stroke: 20mm
Igniter power supply voltage: 4.5 V (using 3 AA batteries, excluding batteries)
Starting method: external force (electric drill) or manual
Suitable age: 14 years old and above