The new Chevy Silverado EV is the future of the pickup truck — and today I'm reviewing the Silverado EV. I'll show you all the quirks and features of this amazing truck, and I'm going to show off the Silverado EV and its capabilities in a thorough demonstration.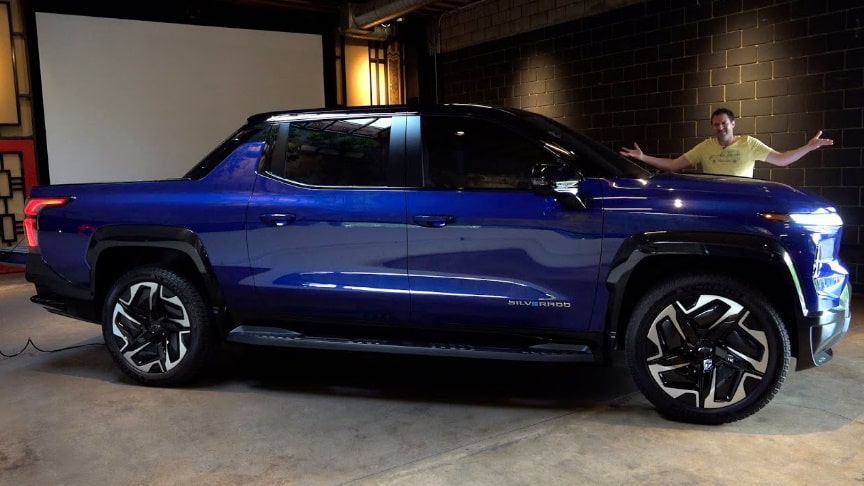 source/image: Doug DeMuro
Despite using the Silverado nameplate, the vehicle does not share its underpinnings with the ICE-powered Silverado, as it is built on a narrower version of the dedicated electric platform used by the GMC Hummer EV. It is the first Chevrolet-branded electric pickup truck after the experimental S-10 EV.
All models are powered by front and rear electric motors with optional 200 kWh battery and uses independent front and rear suspension. The truck will initially have a towing capacity of 8,000 lb (3,629 kg), but Chevrolet will offer a max tow package that will increase the figure up to 20,000 lb (9,072 kg).
Advertisement
The truck features a midgate which is similar to the one in the Avalanche, which allows the wall separating the bed from the cab to be lowered in a 60:40 split to increase the effective bed length while leaving room for a rear passenger.Two trim levels were available at its introduction, which are the base, fleet-oriented WT and the flagship RST First Edition, while other trim levels between them will be released later. The WT has a power output of 510 hp and 615 lb⋅ft of torque, while the RST offers a power output of 664 hp (673 PS; 495 kW) and 780 lb⋅ft (1,060 N⋅m; 108 kg⋅m).