Video shows a portable "12v" DIY Water Distilling Unit that i made. the unit is made with a couple of metal cans along with a few (easy to find) stainless steel items (a 304 ss 3/4″ to 3/4″ threaded coupler, a 24″ long ss tube and a ss canister). the metal gallon can or "paint can" and the 30 oz. "inner can" make it portable, durable and easy to use.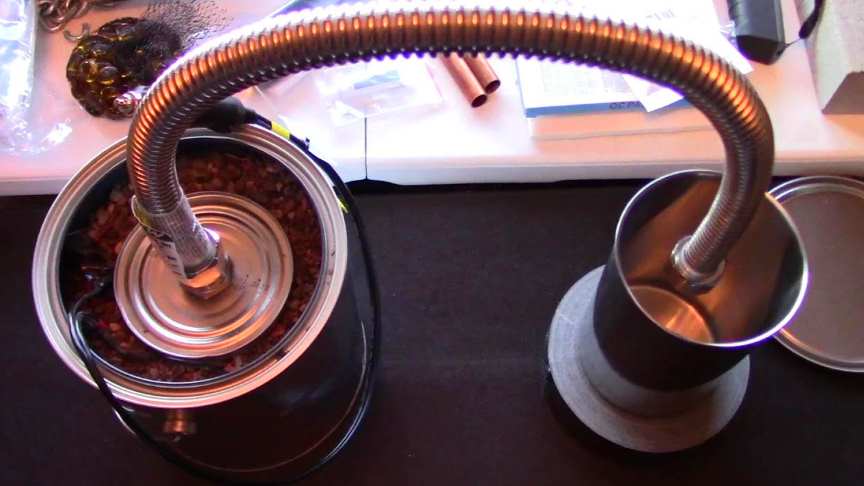 source/image(PrtSc): desertsun02
Unit distills all types of dirty or saltwater to a super clean "1 to 2 ppm" every time! (and that's starting with water over 400 ppm!). the video includes 'full build instructions' starting at 3 min 45 sec. Powering the unit; the unit can be powered straight to any 12v 12a power source *including straight to a 12v solar panel (or panels).
How it works; the steam and water vapor is collected from boiling the dirty or salt water (in the 'inner chamber') and the resulting water vapor is collected through a series of stainless steel tubing and couplers – finally entering into the stainless or glass collection vessel. The use of stainless steel from 'steam and vapor' to collection container makes it possible to achieve the professional result of 1 to 2 ppm.
Advertisement
Much better than just standard water filtering and purifying. distillation removes 99.9999% of everything that's bad. The 'gallon can' and ss tube are from lowe's. The ss coupler, ss zip ties, ss canister and the six 12v 220c ptc heating tablets are all from amazon and the inner can is just the standard 30oz. Variety that originally contained a sauce./desertsun02