Check out this 1973 Chevrolet Camaro Z/28 Street Machine I found at the 2019 Holley LS Fest east..Covered in bright yellow paint there is no way you were going to walk by it…But this 1973 Camaro Z/28 has a lot more going for it than just bright paint.2nd generation Chevrolet Camaro are my favorite generation camaro and I think that they were cool straight from Chevrolet and that if you are going to make some changes.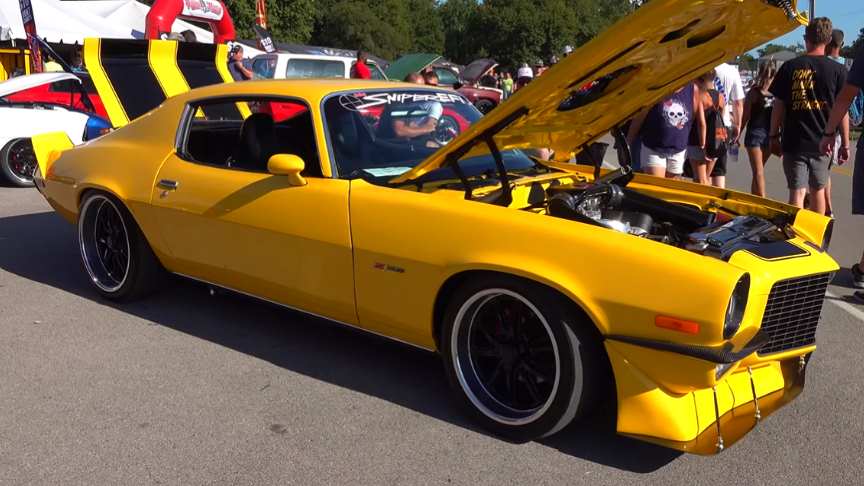 source/image(PrtSc): ScottieDTV
Be very careful.They don't need much.If any.What changes that have been made to this 1973 Chevrolet Camaro z/28 from the 2019 Holley LS Fest east work for me.Custom chin spoiler.Modern headlights.
Carbon fiber bumpers.Blacked some other things out.All things that didn't take any of the old school cool of a 1973 Chevrolet Camaro away.Under the custom hood has been swap with the LS 6.0 and some other go fast goodies.
Advertisement
Wheel are always a personal choice but I'm good with the ones that they chose to run on this 73 Z/28 Camaro.Stance is king when it comes to obtaining "The Look" and this 1973 Chevrolet Camaro from the 2019 Holley LS Fest has the perfect stance A very cool car for sure..I'm sure you will love this 73 Camaro.Check it out!!!/ScottieDTV