This is a CISON L4-175 17.5cc Miniature OHV Four-cylinder Four-Stroke Engine Kits that Runs on Gas for RC Cars Ships.the Cison OHV L4-175 L4 gasoline engine, which maintained a unique, mini and compact appearance and almost the same displacement, compared to the previous L4.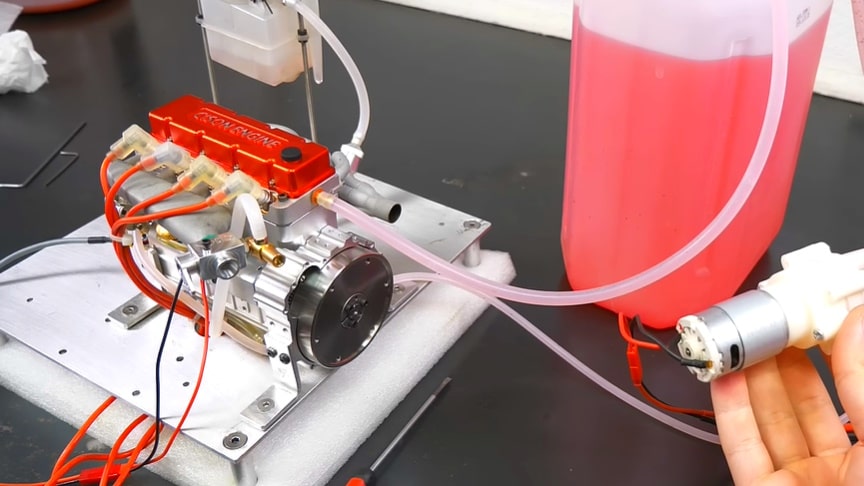 source/image: JohnnyQ90
But it adds red sports elements on the surface, roughens the crankshaft, and adopts bionics on the carburetor. OHV valve mechanism gives the engine a better power output performance than the F-head design for higher torque output, which is more compatible with RC off-road trucks, tows, etc.
Equipped with a standard electrical starting, water cooling system and independent lubrication system, the new L4-175 OHV L4 gasoline engine will also be available in two versions, the KIT version and the finished version. The spark plug, ignition and water cooling accessories are not included, please prepare or purchase on your own.
Advertisement
With a total of hundreds of metal parts, the L4 engine kit allows you to start a great and challenging project, enter the world of micro mechanical engineering and DIY build your own L4 engine.The engine boasts printing inlet pipes and exhaust pipes that are integrated metal and stainless steel, along with a carburetor designed by bionics for easy adjustment, more sensitive throttle response and deep and powerful sound.
Some Specifications:
Type: Gasoline Interal Combustion Engine
Valve Mechanism: OHV
Displacement: 17.5CC
Cylinder: L4
Stroke: Four Strokes
Cylinder Diameter: 16.7mm
Stroke: 14mm
RPM: 1500-8000rpm
Power: About 2.5ps
Cooling Mode: Water Cooling
Lubrication Method: Independent Lubrication System
Starting Mode: Electronic Starting