The Scott Flying Squirrel was a motorcycle made by The Scott Motorcycle Company between 1926 and the outbreak of World War II. The Squirrel name was used for Scott motorcycles since 1921 but with the death of the founder Alfred Angas Scott in 1923 the unorthodox Scott two-stroke motorcycles began to become more conventional.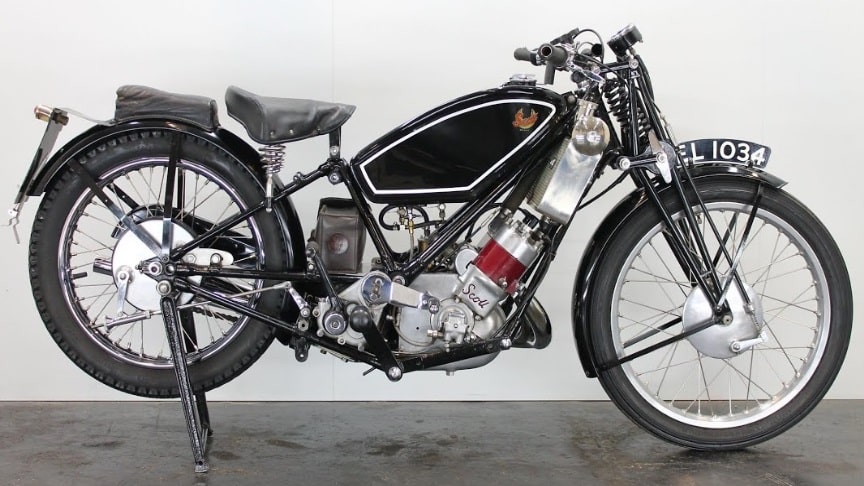 source/image: classic-motorcycle.com
Development of the three-speed Scott Flying Squirrel began in 1922 as the company was in severe debt and faced receivership.The unique water-cooled circulation used a convection method known as the thermosyphon system.
The 1924 works bikes had featured 'square' engines of 68.25mm bore/stroke, and this new 498cc unit became available in the Super Squirrel introduced later in the year together with a 74.6mm-bore 596cc version, which remained essentially unchanged until Scott production petered out in the 1960s, by which time the company had changed hands and relocated from Shipley to Birmingham.
Advertisement
This machine has been restored in 2009 with many of love, during this restoration the engine has been replace to one of c.1949. It is a fast 600cc two stroke bike and a good runner.read more: classic-motorcycle.com
Specifications:
Manufacturer: Scott
Model: Flying Squirrel
Year: c. 1933
Displacement: 596 ccm
Cylinder: 2
Engine type: 2-stroke
Bore / Stroke: 74.6 x 68.2 mm
Weight: 147 kg
Top Speed: 110 km/h
Frame number: 5289
Engine number: DPY5312