This TWN-Triumph has been restored several years ago. A lovely detail are the both original old brass plates on the steering head and tool box. The numbers on the plates are matching to the bike. It runs fine and comes complete with Bosch Mag-Dyno + Headlight, Amal carburetor and a Hurth 3 speed gearbox.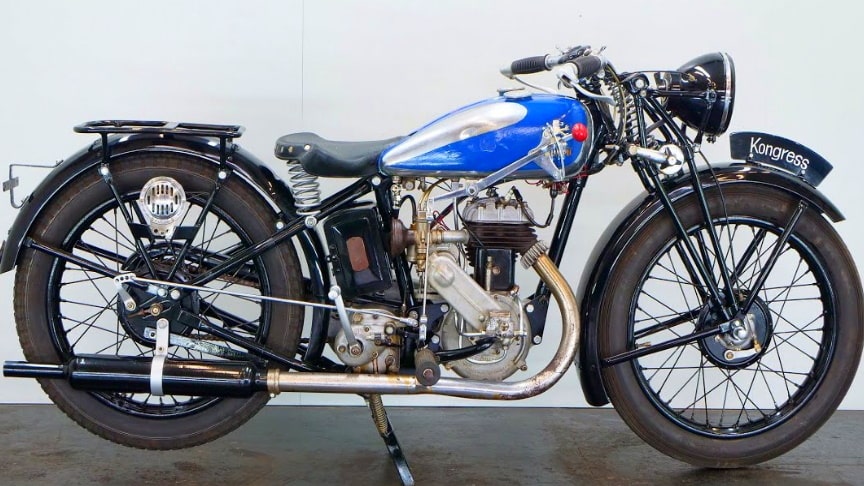 image: classic-motorcycle.com
A native of Germany, Siegfried Bettmann founded the Triumph factory in Coventry in 1886 where he built bicycles. A decade later he built another Triumph factory in his home town of Nurnberg. The English factory built its first motorcycles in 1902 with the German plant following in 1903.
Despite the turmoil of the Great War, the German factory maintained its relationship with its English partners and built machines with the same engines as, and otherwise very similar to, the English bikes up until 1929 when the economic and political climate in Germany forced a change to home-grown components.
Advertisement
In the 1930s Otto Reitz, an engineer they had hired away from rival NSU, designed a single cylinder 200cc twostroke along the lines of the Puch "Twingle", with the two pistons sharing a forked conrod. This was developed in 250cc and 350cc versions which were used in military machines during preparations for the coming war. Nuremburg was badly damaged in the latter years of the war, the TWN factory suffering extensively. By 1948 production had resumed. In 1956 the company merged with Adler and German-built Triumph motorcycles ceased production. It is likely that rebadged Hercules mopeds were marketed as Triumph during this period.