This authentic 1957 Zundapp Bella R203 Scooter and authentic Steib RS1 Sidecar is the ultimate combination that is seldom seen. Many enthusiasts reference the Zundapp Bella as "The World's Best Scooter" and the Steib Sidecar as "The World's Best Sidecar". Finding a Zundapp Bella R203 Scooter with authentic Steib RS1 Sidecar is extremely rare.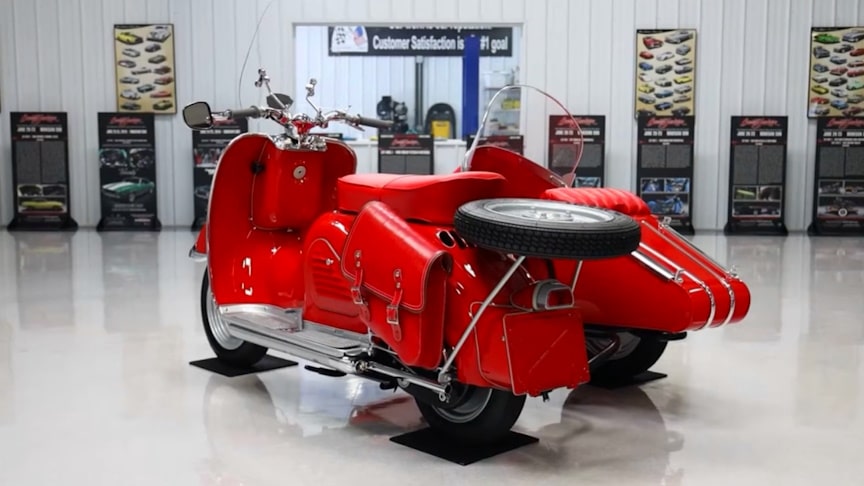 source.image: MS Classic Cars
It's truly a match made in heaven. The Scooter and Sidecar have both been completely restored and are in show quality condition. Zundapp was a major German motorcycle and machine tool manufacturer that was founded in 1917. After WWII, Zundapp refocused its product line from aircraft engines and motorcycles to smaller machines such as the Bella Scooter.
The Zundapp Bella was manufactured from 1953 to 1964 and was imported to the US market by the International Motorcycle Company. Approximately 130,000 Bella Scooters were sold worldwide. The Bella was offered in two models including the 150cc and 200cc.
Advertisement
Based on the Parilla Greyhound Design, the Scooter featured prominent air tunnels to allow fresh air to cool the engine without a fan on both models. The German design and engineering resulted in a stronger frame, mid-mounted engine, 4-speed transmission, electric start and larger wheels which outshined the competition.via/read more: MS Classic Cars