In this video I check out the custom rod built in the 1960's "The Bathtub". From the 2020 Grand National Roadster Show in Pomona Ca.The Bathtub custom rod is what was happening back in the late 60's.The crazier.The Better.George Barris promotions showed the car back in the day and then it fell off the face of the earth.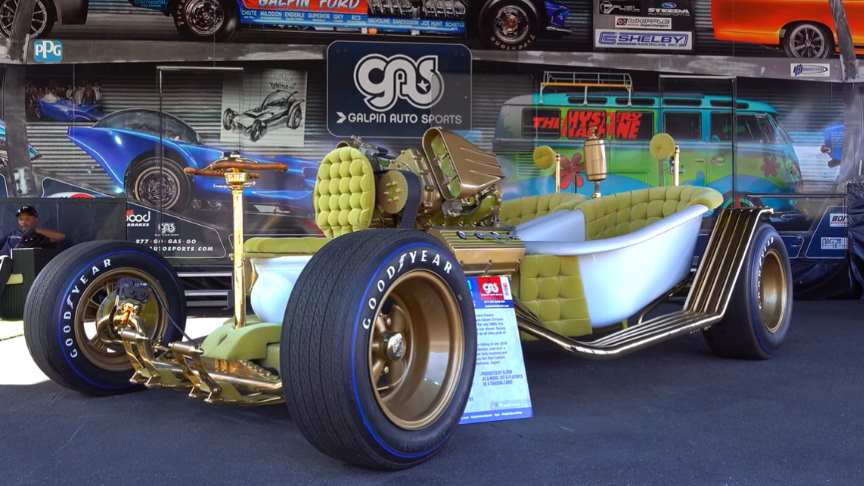 source/image: ScottieDTV
Until it was rediscovered a few years ago and brought back to it's new build glory then it was debuted at the 2019 Mooneyes show in Japan.When I caught up with The Bathtub Custom Rod at the 2020 Grand National Roadster Show it was part of the Galpin Auto Sports display.As you will see this twin supercharged HEMI hot rod has more than just two bathtubs.
You drive it setting on a toilet.There are a couple of shower heads for headrest in the bathtubs.Crazy plumbing running everywhere.Talk about imagination run wild.That's what has happened here.Piratical it is not.But cool it is.And it is always cool to check out custom hot rod history and when one goes away and then makes it all the way back to it's heyday glory like
Advertisement
The Bathtub Custom Rod from the 2020 Grand National Roadster Show.Well I can only count my blessings to be there with a camera to capture it for all time.I think this one is going to make You smile like it did me.The Bathtub Custom Rod from the 2020 Grand National Roadster Show.//ScottieDTV