In this video from the 2022 Auto Crusade Car Show held in Cumming GA, I found a very cool 1965 Chevrolet C/10 Pickup Street Truck. This 65 C/10 is covered in a medium gray paint with back trim. The stock chrome trim has been blacked out to give it a more aggressive look.The other thing painting the trim black did was make it stand out against the medium gray color of the body, giving it a very nice custom touch.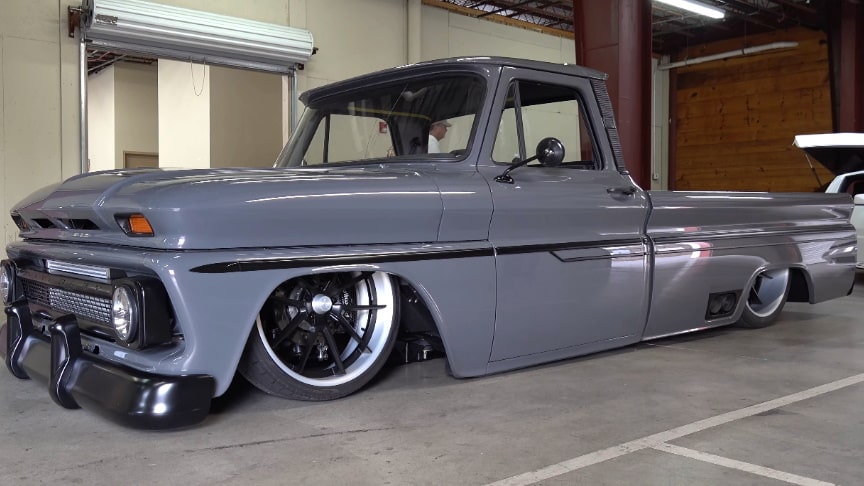 source/image(PrtSc): ScottieDTV
The interior isn't finished in this 1965 Chevrolet C10 from the 2022 Auto Crusade Car Show, usually I would have waited till the truck was done to shoot a video, This one is going north as soon as it gets buttoned up and I didn't think I would have the chance to shoot it at a later date. The other thing that makes this 1965 Chevrolet C/10 Street Truck from the 2022 Auto Crusade Car Show different from so many that I shoot, is that it is a long bed truck.
Most of the trucks done to this level are the short bed trucks.I still prefer a short bed truck, but I would take this long bed home without a second thought.It sets on air, so it will lay on the ground.Or set much higher if you wish. Wheels are a personal choice and no one set will please everyone.
Advertisement
The ones they chose to run on this 1965 Chevrolet C/10 from the 2022 Auto Crusade Car Show work well with the rest of the build.IMHO.Under the hood, Two Turbos blowing into a LS and a very clean install.One very cool truck for sure.A 1965 Chevrolet C/10 Twin Turbo Street Truck from the 2022 Auto Crusade Car Show in Cumming GA.//ScottieDTV