In this video from the 2023 Pigeon Forge Rod Run held in Pigeon Forge TN, I have this very cool 1967 Chevrolet Nova. It has some Pro Touring, Street Machine and Hot Rod styling influences.This 67 Nova from the Pigeon Forge Rod Run is covered in a medium gray color paint.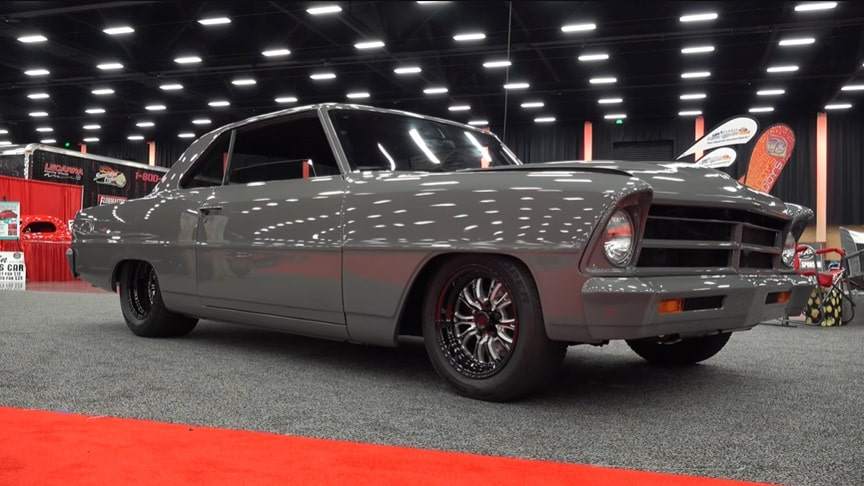 There are a few other parts in other colors.But this one is pretty close to dipped in gray.Gives it a clean look that I really like! The interior is my favorite part of this 1967 Chevrolet Nova.The leather is close to body color and then they used a plaid insert that has a bright orange stripe in it that gives the car a splash of color without being distracting.
Wheels are a personal choice and no one set will please everyone, The drag racing style of wheel they chose to run. works well with the rest of the build ..imho. Under the hood is a cleanly installed LS that's painted orange.I always dig that.When I was growing up engines where painted a certain color depending on manufacture.
Advertisement
Chevy orange was the one I used to seeing around My house. The suspension and brakes have been ungraded to the latest technology making sure that this 1967 Chevy Nova stops and turns and well as it looks. I have always been a big fan of this body style.Whether they called them Chevy II or Nova! They are all the same to Me.Cool! A very cool 1967 Chevrolet Nova Pro Touring Street machine Hot Rod from the 2023 Pigeon Forge Rod Run.