In this video from The SEMA Show 2022 I have the latest Ringbrothers 1969 Chevrolet Camaro build "Strode".It's Mike and Jim Ring so You can expect a lot of Carbon Fiber and even more cool!! This one looks like the 1969 Camaro that was produced by Chevrolet back in 1969, when in fact the only part that would still fit the original car is the side glass. The body is one of two Carbon Fiber bodies that the Ring Brothers were able to get out of a mold.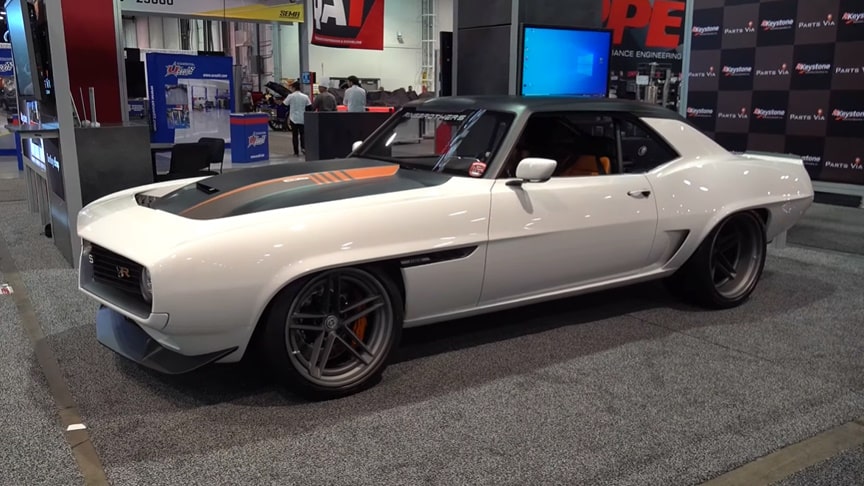 source/image: ScottieDTV
There won't be another one like it.It's covered in white paint with some orange and graphite graphics, a cool combination of color. There are several subtle changes from the stock 69 Camaro.The big thing being it is widened by five inches in the rear and three inches in the front and everything else in between has been been made to fit perfectly.Under the custom hood is a cleanly installed Supercharged LS3 putting out over a 1000 Horsepower.
The completely custom interior is done a orangish tan color and a aggressive style that really works well with the rest of the build. Wheels are always a personal choice and no one set will please everyone..The ones that the Ringbrothers chose to run on this 1969 Chevrolet Camaro "Strode" from The SEMA Show 2023 work really well in my opinion.
Advertisement
Of course suspension and brakes have all been upgraded to the best available and finished to the same high level as the rest of the car.The 1969 Chevrolet Camaro is one of the most done cars in Hot Rod history.Right there with the 32 Ford, And it would be easy to say.this is just another one like the rest, that would be a mistake.This one is different and worth a look.The Ringbrothers 1969 Chevrolet Camaro "Strode" from The SEMA Show 2022.