The Alfa Romeo Montreal was introduced as a concept car in 1967 at Expo 67, held in Montreal, Quebec, Canada. Originally, the concept cars were displayed without any model name, but the public took to calling it The MontrealWith the soul of a concept car and the V-8 heart of a race car, the Alfa Romeo Montreal has never been at a loss for admirers.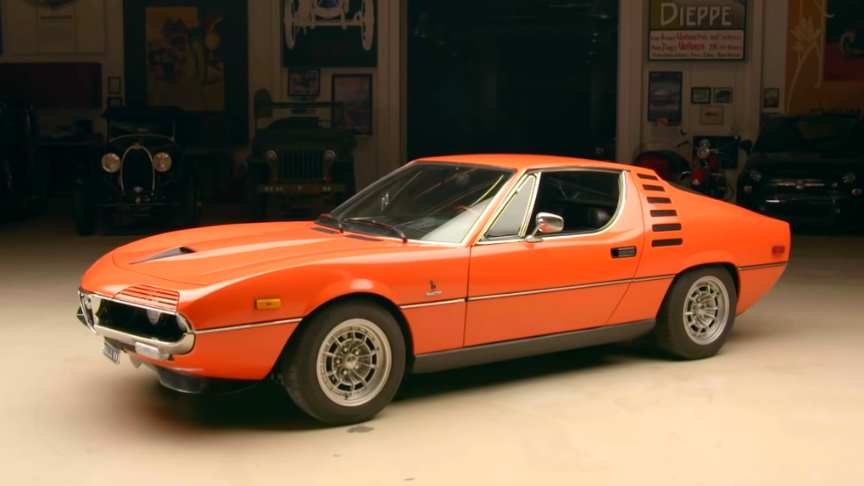 source/image: Jay Leno's Garage
It was a 2+2 coupe using the 1.6-litre engine of the Alfa Romeo Giulia TI and the short wheelbase chassis of the Alfa Romeo Giulia Sprint GT, with a body designed by Marcello Gandini at Bertone.
The first production car,[5] Tipo 105.64, was shown at the 1970 Geneva Motor Show and was quite different from the original, using a 2593 cc 90° dry-sump lubricated, cross-plane V8 engine with a bore of 80.0 mm and a stroke of only 64.5 mm and using SPICA fuel injection that produced around 200 PS (147 kW; 197 hp).
Advertisement
Coupled to a five-speed ZF manual gearbox and a limited-slip differential. This engine was derived from the 2-litre V8 used in the 33 Stradale and in the Tipo 33 sports prototype racer, the car reached 220 km/h (137 mph) top speed.