In this video from the 2022 Goodguys Summit Racing Nationals held in Columbus OH, I have Mark Allen's 1973 AMC Javelin AMX. This custom 1973 AMC Javelin AMX is covered in a medium gray color paint with some factory chrome trim left in place. The bright red custom leather interior goes great with the color of the body.A very clean design with focus on the duties of driving. Wheels are always a personal choice and no one set will please everyone.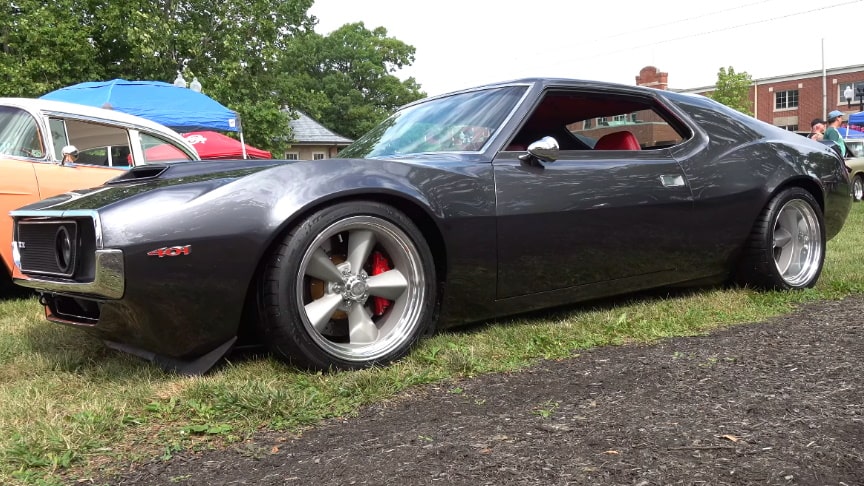 source/image(PrtSc): ScottieDTV
The ones they chose to run on this 1973 AMC Javelin AMX from the 2022 Goodguys Summit Racing Nationals fit the build, They are a modern version of a wheel You would have bought back in the day.Ground clearance in the front was nonexistent setting in the grass, But from what I could see from under the rear the suspension has been upgraded to more modern technology.
I tried several times to find someone that owned this 1973 AMC Javelin AMX so I could see what powered it.Turns out that it is owned by Mark Allen the Head of Design for Jeep!! I'm sure He had better things to do than set around His car in a lawns Chair telling Me about His cool Hot Rod.
Advertisement
So I have little to no information on this 73 AMC Javelin AMX but it was way to cool just to walk by…A 1973 AMC Javelin AMX Pro Touring Street Machine from the 2022 Goodguys Summit Racing Nationals held in Columbus OH./ScottieDTV