Having established its performance credentials with the Mach III two-stroke triple, Kawasaki went on to ace the opposition with the awe-inspiring Z1. The model had been planned in 750cc form in the late 1960s but was beaten to the showroom by Honda's CB750. Kawasaki's proposed superbike already had two overhead camshafts to the Honda's one, so its designers redrew the motor as a '900'.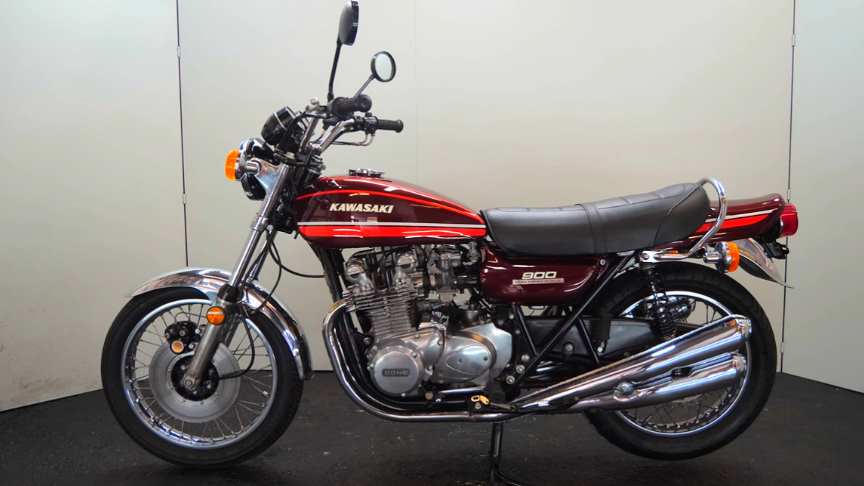 source/image(PrtSc): classic-motorcycle.com
Launched in 1972 at the Cologne Show, the big 'Z' set new road-bike performance standards, at least as far as straight-line speed was concerned. With 82bhp on tap, top speed was around 130mph, but if the rider used all that power on twisty roads then things could get exciting.
s a fast tourer though, the Z1 excelled. Mildly revised year by year, the model progressed through the Z1A and Z1B versions and was renamed 'Z900' for 1976. Introduced in 1974, the Z1A featured different tank livery and a plain alloy finish for the engine's upper half, the Z1's having been black, together with minor mechanical alterations.
Advertisement
The Z1B, introduced in 1975, featured different tank livery and the plain alloy finish for the upper engine first seen on the Z1A, together with minor mechanical alterations including the adoption of a sealed drive chain and the deletion of the chain oiler. In 1976 the model was mildly revised yet again and renamed 'Z900', gaining twin front discs and 26mm carburettors among other more minor changes.The Z900´s are collector bikes these days. This lovely machine has power and is ready for the road.via/read more: classic-motorcycle.com