The Typhoon was designed originally as an air superiority fighter. The Eurofighter Typhoon is a highly agile aircraft, designed to be a supremely effective dogfighter in combat.The Eurofighter Typhoon is a twin-engine, canard–delta wing, multirole fighter.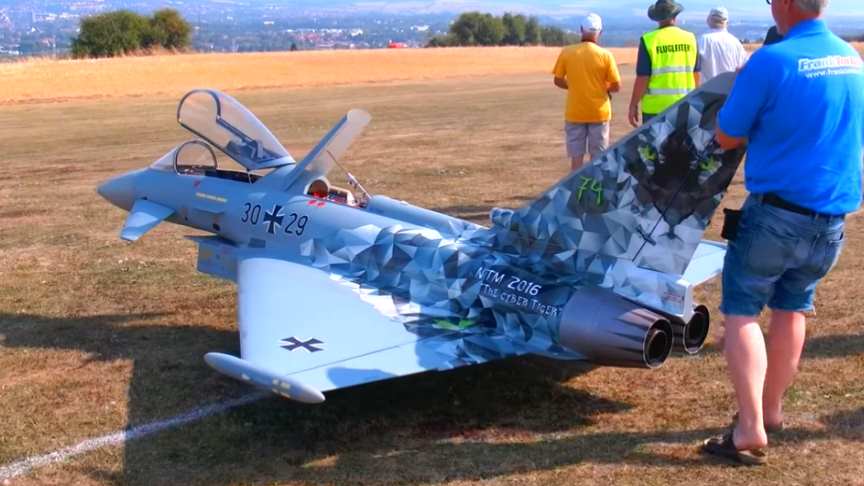 source/image(PrtSc): RC MEDIA WORLD
The structure is built from CNC cut balsa and ply all aligned by hand on jigs for accuracy. This traditional method results in a lightweight and strong airframe ideally suited for rc jet engines.The airplane has a 2.5m wingspan and a lenght of 4.00m, it is powered by a Frank Turbine jet engine.
The sad thing about this video is that this beautiful airplane crashes through landing.This rc jet Eurofighter Typhone is no slouch and really rips through the sky.The powerful control make aerobatics easy and provide impressive authority in a wide range of flight speeds.
Advertisement
The airplane weights around 83kg and can reach up to some outrageous speed of 75+ mph because it is super light weight construction and its detailed design is sure to make heads turn. The front landing gear can turn around making landing and directional movement on land simple.
Model: Eurofighter Typhoon
Scale: app. 1/3
Engine: Frank Turbine
Wingspan: 2.50m
Length: 4.00m
Take-off weight: 82Kg