In this video from The SEMA Show 2022 held in Las Vegas NV. I catch up with this 1979 Chevrolet C/10 Unibody Pickup "Lolita".You don't have to be a expert of Automotive History to know that Chevrolet didn't make a Unibody Pickup in 1979.And it's The SEMA Show and you can never trust your eyes at SEMA.Most of the time you're not sure what You are actually looking at.Come to find out what I was looking at was actually a 1979 Chevrolet Blazer K5 that had been transformed into a 1979 Chevrolet C/10 Unibody Pickup.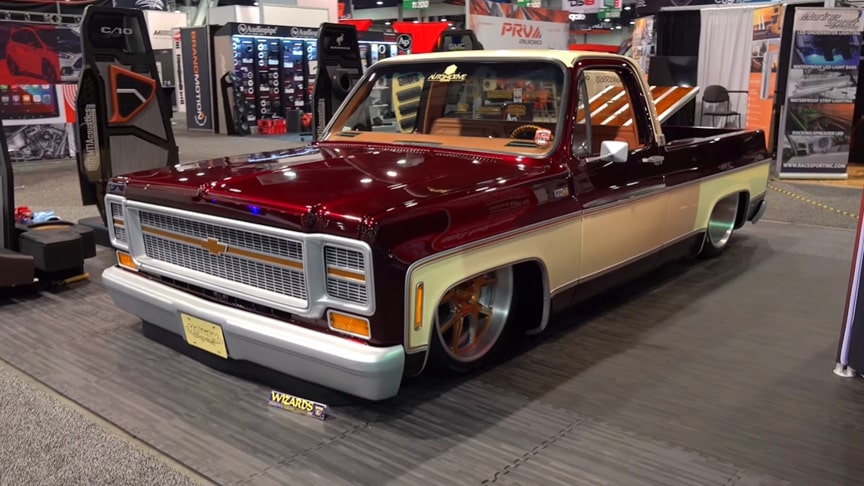 source/image: ScottieDTV
There are a ton more custom touches made to this 79 C/10 Chevy.To many to list in this description. What I can tell You is that, this is nothing that was thrown together just for The SEMA Show 2022.This is top notch custom work.The body is two tone a Burgundy color red with a cream colored accent. The interior is all High end Custom Leather.Very custom, and works really well with the rest of the the build.
Wheels are always a personal choice and no one set will please everyone.I really like the color matched ones they chose to run on this Custom Chevrolet Pickup Truck from The SEMA Show 2022. Under the hood is a cleanly installed modern LT4 Small Block Chevrolet. This C/10 Chevy lays on the ground, so I couldn't see the underside.
Advertisement
I can tell You that no expense was spared on this build so I am sure it is all top quality modern technology and finished to a high level. If this was just a 1979 Chevrolet Pickup it would still be one cool truck..But to find out that it started life as a 1979 Chevrolet K5 Blazer and is now a unibody pickup truck is a mind blower!. One very cool Custom 1979 Chevrolet C/10 unibody Pickup "Lolita" from The SEMA Show 2022.