The Tri-Magnum is a three-wheeled kit car that was first introduced in 1981. It was designed by Robert Q. Riley, a prominent kit car designer who also created other popular kit cars like the XR3 and the Locost. The Tri-Magnum is based on a modified 1980-1981 Honda GL1100 Gold Wing motorcycle, with the engine and transmission mounted in a custom-built chassis.The Tri-Magnum's body is made from fiberglass and is designed to resemble a futuristic, aerodynamic sports car.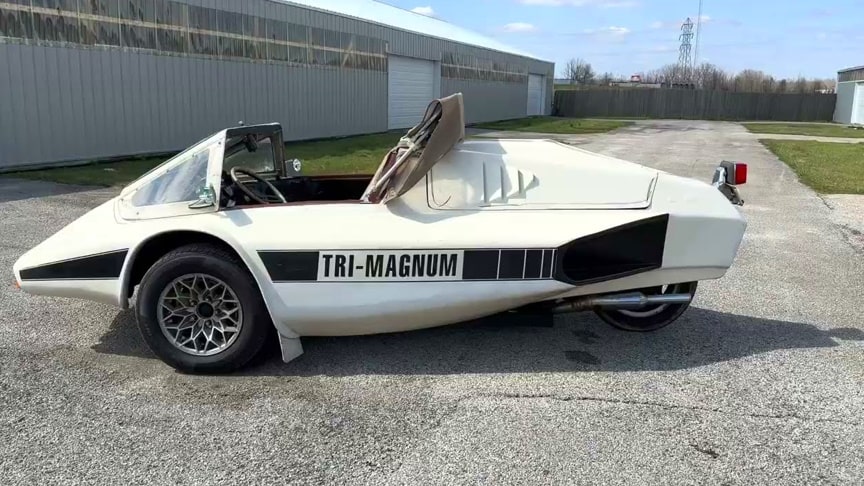 source/image(PrtSc): Country Classic Cars
It has a low, sleek profile with a pointed nose and a wedge-shaped body that tapers towards the back. The car has three wheels, with two wheels in the front and one wheel in the back. The front wheels are mounted on independent suspension and are steered by a handlebar, while the rear wheel is driven by the motorcycle's engine and transmission.via/more info: Country Classic Cars
The Tri-Magnum is a high-performance vehicle that can reach speeds of up to 100 mph. It has a 0-60 mph acceleration time of approximately 6 seconds, and it can achieve a fuel efficiency of up to 50 mpg. The car is also equipped with a range of features, including a four-speaker stereo system, air conditioning, and power windows.
Advertisement
Overall, the Tri-Magnum was a unique and innovative kit car that combined the performance and handling of a motorcycle with the styling and comfort of a sports car. It remains a popular choice for kit car enthusiasts and collectors today.