New 2023 Peterbilt 567 Ultra Cab with Stacks with ARI 168 Inch Legacy II RBSD Sleeper, X15 Cummins, 565 HP, Eaton UltraShift Plus Transmission, 356 Inch WB.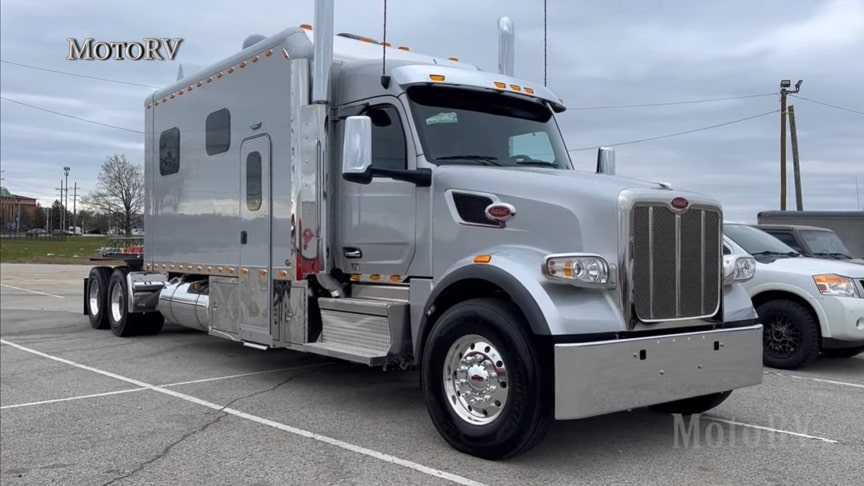 source/image(PrtSc): MotoRV
Truckers move over 72% of the nation's goods, and life on the road isn't easy. Typically, truckers are sleeping in crammed areas and depend heavily on truck stops for a bathroom or kitchen and other things like 12vdc refrigerators, climate control, actual residential mattresses and, yes, showers and toilets.
But not always. ARI Legacy Sleepers is hoping to change the trucker lifestyle with their luxurious cabins that attach to semitrucks. a new truck with a custom sleeper isn't something for a novice owner-operator, but the amenities are worth it for many who spend a lot of time away from home.Depending on how much you're willing to spend, customers can have everything from custom-made tiles in the bathroom to a stunning chandelier.
Advertisement
The sleeper cab, which is behind the regular place you'd sit when driving around looking down at those pesky Joneses, was outfitted with a full kitchen using an induction cooktop and microwave.As such, the bed arrangement is designed to be used while the vehicle is in motion with a full "net" type arrangement in front of it made up of the same webbed material you'll see in seat belts. So you can relax in the back before you make miles in the front.