In this video from the Nichols Paint and Fab open house, I catch up with this 1986 Pontiac Fiero "Ratero" This isn't your run of the mill Pontiac Fiero.Even though it's covered in a bright yellow paint, that is not what first draws your attention.The first thing you notice is the 427 Big Block sticking out of the hood.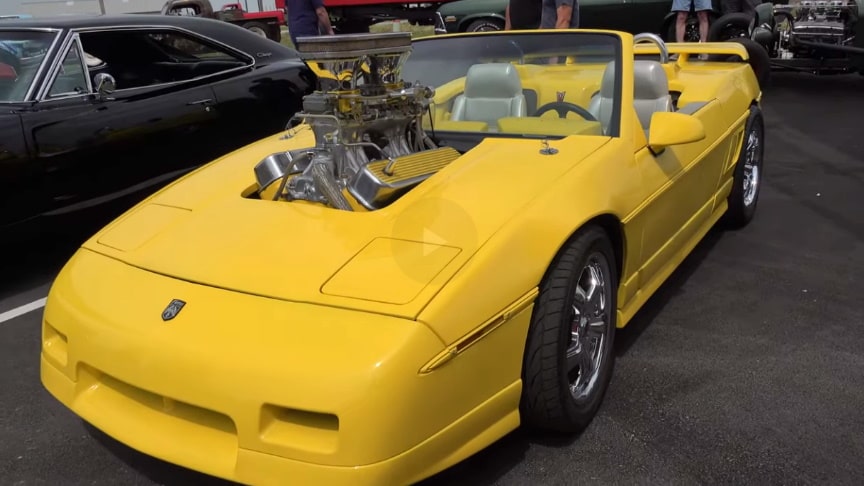 source/image(PrtSc): ScottieDTV
I have shot a couple Pontiac Fieros that have been swapped with a SBC, Usually a LS, But I have never found one with a Big Block Chevy that has been moved to the front of the car.The next thing You may notice is that it is a convertible.They never made a Convertible Pontiac fiero.That conversion took some work.The silver leather interior is custom also, Nothing over the top.But fits the rest of the build well.
Wheels are always a personal choice and no one set will please everyone.The ones they chose to run on this 1986 Pontiac Fiero work fine for Me.I mean you really don't see much of this car once you see that 427 Chevrolet Big Block coming through the whole in the hood.
Advertisement
Suspension and brakes have all been upgraded to handle the increased performance of this Pontiac Fiero Convertible.There has been a ton of work done to this 1986 Pontiac Fiero, and it won't be everyone's cup of tea.I dig the different and I dig good work.This 1986 Pontiac Fiero from the Nichols Paint and Fab Open House is defiantly different and like it or not.You got to give a thumbs up to the quality of work done to it.I thought it was cool./ScottieDTV