The McLaren Speedtail: a car like no other. McLaren Automotive revealed the stunning, streamlined form and sensational specification of the McLaren Speedtail.The Speedtail is powered by a modified M840T from the 720S and a hybrid powertrain to generate 1,036 hp.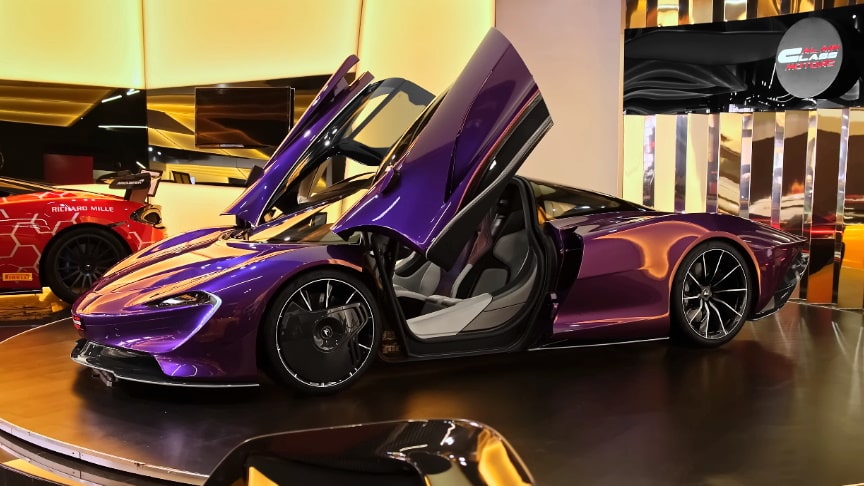 The Speedtail uses a carbon fibre monocoque, with the passenger seats integrated into the chassis, as well as dihedral doors like other McLaren models.McLaren claims that the Speedtail has a top speed of 250.4 mph (403 km/h) and can accelerate from 0–299 km/h (0–186 mph) in 12.8 seconds.The maximum torque is 848 lb⋅ft.
The car recharges its hybrid battery while driving, though a wireless charging pad is included with the car, trickle-charging it when not in use.The Speedtail is fitted with electrochromic glass, which darkens at the push of a button, eliminating the need for sun visors and also incorporates LED lights in the interior.The Speedtail has a 3-seat layout, similar to the preceding F1, which has the driver sitting at the centre of the car, and slightly forward of the two passenger seats.
Advertisement
On the original F1, this layout was used to provide better visibility than a conventional seating layout. The interior of the Speedtail features "directional leather finish" which McLaren says "makes it easy to slide into the seat but then subtly holds the occupant in place while they drive." and is strong enough that it can be used in place of carpet on the floor of the Speedtail.//wikipedia