This is the Saleen Ford Explorer XP8, the coolest sport SUV you probably never knew about. Today I'm reviewing this Saleen XP8, and I'll show you all the many quirks and features. I'm also going to get behind the wheel of the Saleen XP8 and show you what it's like to drive.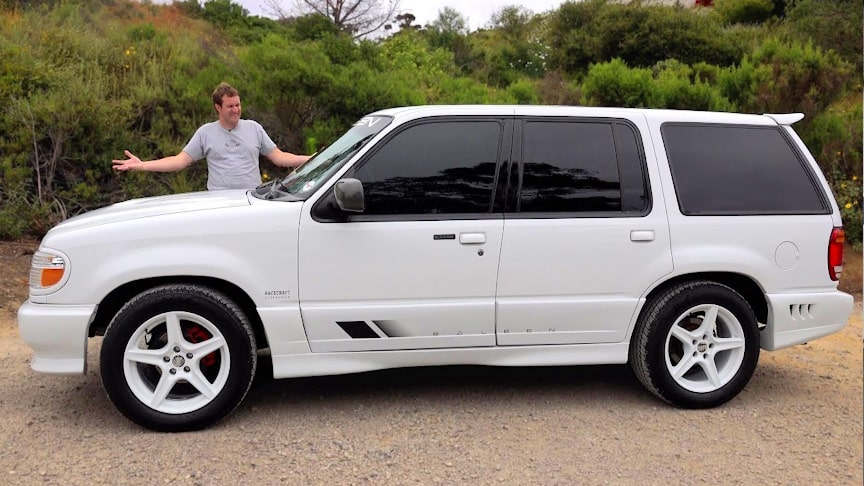 source.image: Doug DeMuro
The Saleen XP8 is a performance sport utility vehicle based on the Ford Explorer built by Saleen from 1998 to 2001. There were three prototype models, based on the 1997 Explorer XLT, which when viewed closely, has distinct characteristics apart from the production models (rear hatch design, taillights, and integrated license plate into the rear bumper).
The Saleen XP8 comes in two wheel drive, or all wheel drive four-door configurations, packing either a 5.0-liter V-8, or a Saleen-developed supercharged 5.0-liter/286-horsepower V-8.A six-cylinder version, the Saleen XP6, was also made in very limited quantities in 1998.
Advertisement
Saleen lowered the Explorer about 2 inches, for both improved handling and appearance. Springs and shocks were replaced with the company's Racecraft components, and wheels upgraded to Saleen's own 18-inch genuine magnesium wheels wrapped by Pirelli 255/55SR18 Scorpion S/T radials.The exterior appearance package was designed by Phil Frank and includes special front and rear fascia, side skirts, door cladding, roof-mounted rear wing, and carbon fiber trim. The cabin is treated to either a real wood or carbon fiber appearance package, depending upon color choice, as well as Saleen gauge faces and floor mats.