Hoovie's Garage Bentley Azure was a $350,000 luxury convertible just 12 years ago — more than $400,000 in today's money — and this particular Azure was owned by celebrity Jean Claude Van Damme. I've reviewed Hoovie's Bentley Azure to find out what it's like to drive the ultimate luxury convertible from 2001.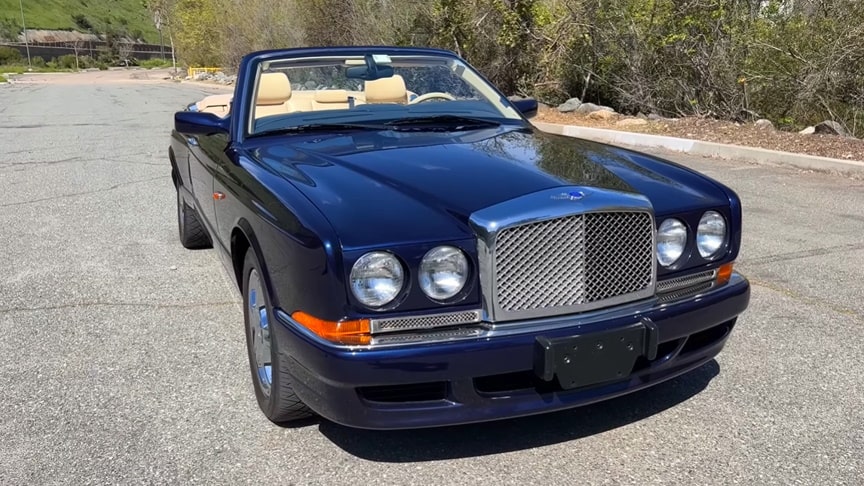 source/image(PrtSc): Doug DeMuro
The name was taken from earlier Robert Jankel sportier 2-door conversions that evolved into the Continental R.The Azure debuted in March 1995 at the Geneva Motor Show on the platform of the Continental R model, which had been originally launched in 1991.
Power came from the company's stalwart 6.75-litre V8, featuring a single, intercooled Garrett turbocharger and rated in the region of 365 PS (268 kW; 360 hp) – Rolls-Royce and Bentley did not yet give official power numbers at the time of the Azure's introduction.
Advertisement
By the time production began in earnest, a new engine management system from Zytek meant a slight power increase to 390 PS at 4,000 rpm and 750 N⋅m of torque at 2,000 rpm; power was routed to the rear wheels via a modified, General Motors sourced, four-speed 4L80-E automatic transmission. With a 0-100 km/h acceleration time of 6.5 seconds and a top speed of 241 km/h,the Azure was very fast for a car of its size, weight and poor aerodynamic profile.