The Ferrari 360 Challenge Stradale is a truly special Ferrari — and it's amazing from every perspective. Today I'm going to review the 360 Challenge Stradale and show you all the quirks and features of this special car. I'm also going to drive the 360 Challenge Stradale, and I'll show you what it's like behind the wheel of this car.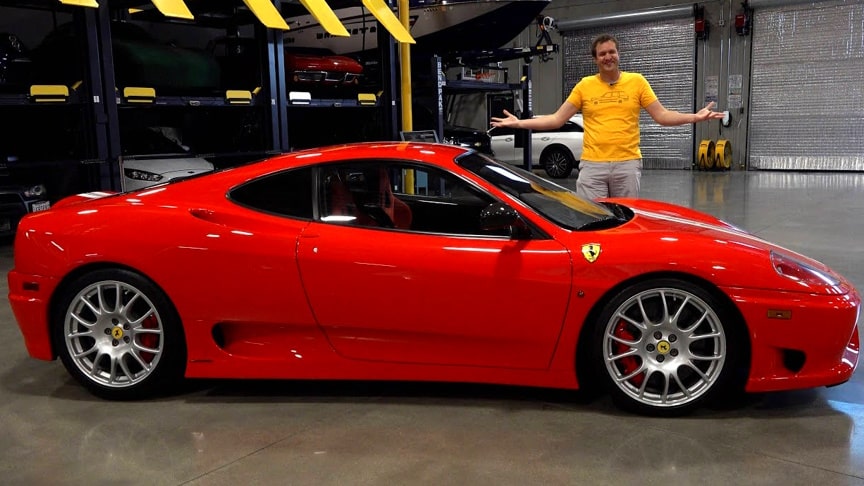 source/image: Doug DeMuro
Ferrari partnered with Alcoa to produce an entirely new all-aluminium space-frame chassis that was 40% stiffer than its predecessor's which had utilized steel. The design was 28% lighter despite a 10% increase in overall dimensions. Along with a lightweight frame the new Pininfarina body styling deviated from traditions of the previous decade's sharp angles and flip-up headlights.
The new V8 engine utilises a 3.6-litre capacity, a flat-plane crankshaft, and titanium connecting rods. The engine generates a power output of 400 PS (294 kW; 395 hp). According to Ferrari, weight was reduced by 60 kg (130 lb) and the 0 to 100 km/h (62 mph) acceleration time improved from 4.7 to 4.5 seconds.
Advertisement
Inspired by the 360 Modena Challenge racing car series, the Challenge Stradale is the track-focused iteration of the 360 Modena. The focus in development of the car was primarily on improving its track performance credentials by concentrating on handling, braking and weight reduction characteristics, which are essential in pure racing cars.//wikipedia