The Bell 206 is a family of two-bladed, single- and twin-engined helicopters, manufactured by Bell Helicopter.The Bell 206 is popular for a variety uses, but is a less common option among touring helicopter companies due to smaller windows and a relatively noisier ride. Most models seat between 4 and 6 passengers in bench-style seating.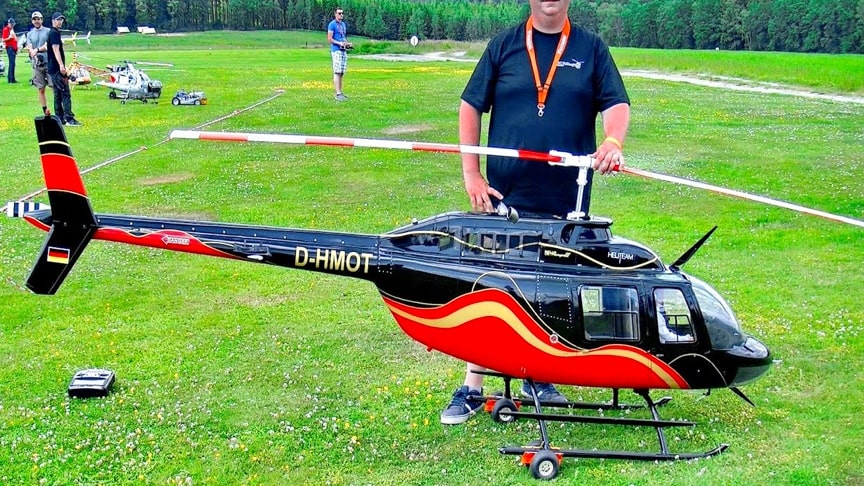 source/image: RC MEDIA WORLD
The JetRanger series has become the definitive turbine powered light utility and corporate helicopter of the past three decades.This giant RC Model Bell-206 is a premium scale kit that offers unparalleled detail.From tip-to-tail the Bell-206 Jetranger body kit displays an accuracy of detail to the real aircraft not normally seen in the RC helicopter hobby.
This Giant 1:3 scale RC Bell-206 Jetranger helicopter has a rotor diameter of 3.25m and is powered by a Turbine Jakadofsky "Limited-Edition" 4.5kW engine with a Take-off weight: app. 24.2 Kg. The pilot of this helicopter is DeHeiko Fischer.
Advertisement
The turbine engine of this helicopter fascinates by the smell of kerosene, a gently starting rotor, accompanied by the unmistakable sound of a turbine.
Model: Bell 206 Jetranger B3
Rotor diameter: 3.25m
Lenght: 3.05m
Take-off weight: 24.2Kg
Engine: Jakadofsky "Limited-Edition" 4.5kW
Servos: 3x Futaba S9074SB
Tail Servo: Hitec 8360TH
FBL: bavarianDEMON 3X
BEC: Jeti maxBEC 2D / Accu 2x Hacker Topfuel 2s 2400mAh
Pilot: Heiko Fischer / http://www.helifischers.de/
Event: RC Scale Helidays by Francis Paduwat in Belgium MCBB – Model Club Basse Bodeux "June 2022"