In this video I check out a 2019 Chevrolet Camaro and been turned into the Trans Am Worldwide version of a Modern day Trans Am.Pontiac has been extinct for several years now but their fans have never stopped dreaming of what if?.What if General Motors had left their Pontiac Motor division live.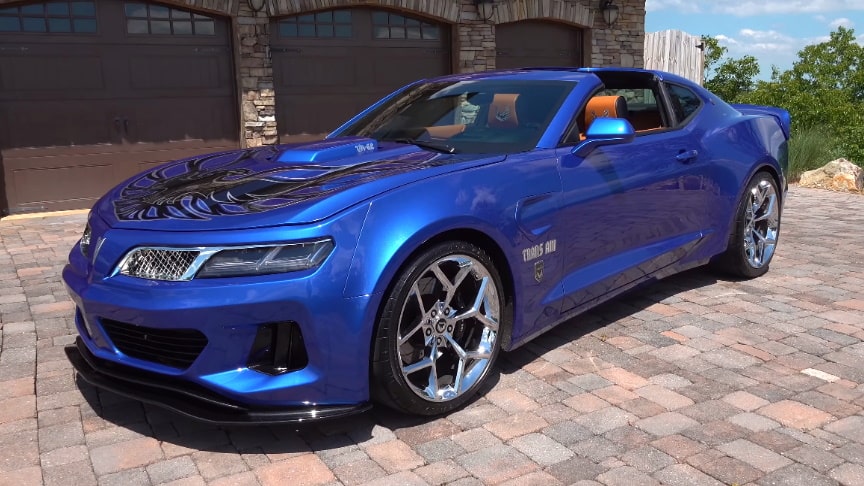 source/image(PrtSc): ScottieDTV
Over the years since Pontiac's death there have been a few different attempts to answer that question by taking a late model Chevrolet Camaro, changing the body panels and usually the front and rear end to closer resembling the Pontiac Trans Am of the past.
I found this Trans Am Worldwide version while at the 2021 Pigeon Forge Rod Run but just recently had the chance to shoot a feature video of it.Talk about a cool car.Not only does it's looks leave no doubt it's a Trans Am of today. It truly is a totally different car from the Camaro it started as.The body is completely different from the Camaro.
Advertisement
It's all Carbon Fiber except the doors and the rear quarter panels.These are the only 4 Camaro panels left.It has a $20,000 T-Top option, Not something you have been able to get from Chevrolet for years.Wheels are now 21″ at all four corners.Under the hood is the 6.2 GM V8 that puts out around 700 Horsepower.The color is a custom blue Chevrolet Corvette color.The chassis and suspension.All still as the Chevrolet Camaro.All the options of a 2SS Chevrolet Camaro still work.Powertrain warranty is still intact from General Motors./ScottieDTV