The Bruder EXP-4 is an off-road expedition trailer like no other. The EXP-4 makes camping adventures easy, very easy.No set-up, no pack-up, and instantly level.The Bruder suspension truly revolutionises off-road travel and camping; not only can the EXP-4 level out uneven terrain for camping, it can counteract steep side slopes while off-roading. For perfect towing balance, the suspension can also calibrate its ride height to suit a wide range of tow vehicles.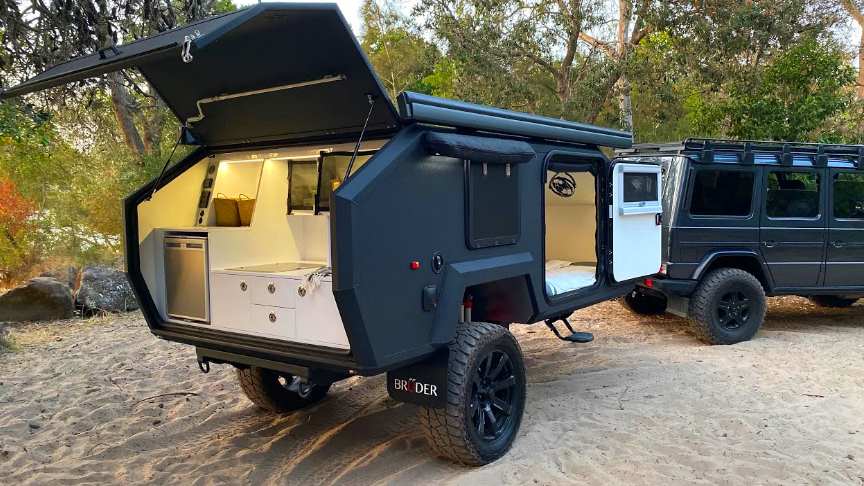 The Bruder EXP-4 is fully engineered: the suspension, the chassis and even the body construction. The EXP-4 has nearly triple the adjustable wheel travel of the nearest air suspension system.The EXP-4 has been tested for durability in 50c (122f) ambient heat, and incorporates manual override and backup systems to get you through an unlikely worst-case scenario.
Although lightweight, the EXP-4 has 2600kg rated axles, ventilated disc brakes for maximum stopping power and can accommodate tyres up to 37inches tall.Inside the EXP-4 is first-class comfort. Sleep in bliss even if it is snowing, raining or storming. With a hugely spacious 6ft wide and 7ft2 long sleeping area, the EXP-4 is supremely comfortable.
Advertisement
The interior can be tailored to accommodate young children on a 1.8m bed that doesn't impact the use of the main sleeping area. No setup, no pack up – the EXP-4 bed is always ready and level regardless of the terrain.The EXP-4 sleeping area can accomodate two adults and three young children. For larger families the EXP-4 roof is engineered to accommodate virtually any roof-top tent on the market.