Easter Jeep Safari wouldn't be complete without paying homage to Jeep off-road vehicles of the past. This year's "Resto-Mod" is a throwback to the second-generation Jeepster.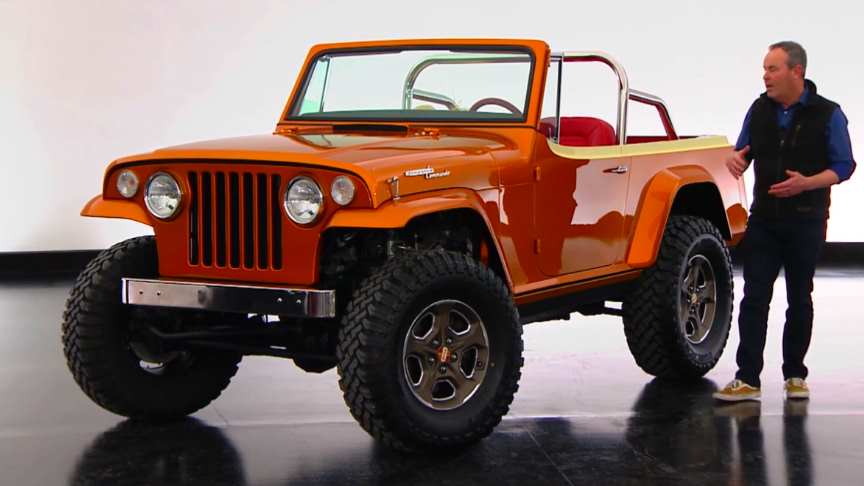 Originally designed around the growing interest in leisure time use of 4×4 vehicles, the Jeepster Commando was the first compact four-wheel-drive vehicle with an automatic transmission and, unlike the Jeep CJs of its day, it boasted modern amenities, such as doors, roll-up side glass, a heater and roof, as standard equipment.
The Jeepster Beach concept started as a 1968 Jeepster Commando (C-101) and was seamlessly blended with a 2020 Jeep Wrangler Rubicon.The body was modified and the exterior fuses original chrome trim with an updated, brightly colored two-tone paint scheme of Hazy IPA and Zinc Oxide. While the Jeepster Beach maintains the outward appearance of a vintage Jeepster, it commands peak performance both on- and off-road delivered by the modern-day Jeep Wrangler.
Advertisement
Under the hood, it uses a high-tech 2.0-liter turbocharged four-cylinder engine with a custom, concept calibration that increases the engine output about 25 percent above the production version to 340 horsepower and 369 lb.-ft. of torque./via/read more: DPCcars