The Stoltz Bluff Eco-Retreat is a monolithic cob house that's completely off-grid. It has a 1-kilowatt solar power system and a backup generator for electricity, a propane radiant in-floor heating system and a Rumford fireplace for heat, and a constructed wetland for natural wastewater treatment.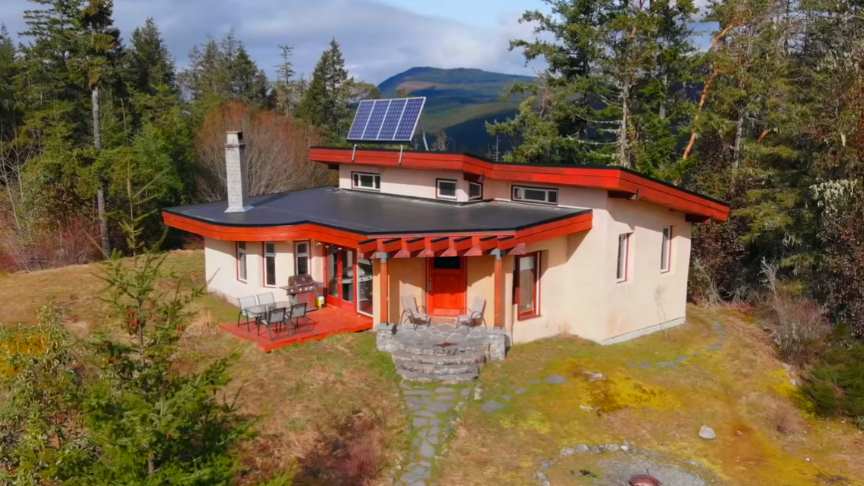 source/image(PrtSc): Exploring Alternatives
Most cob homes are built with a timber frame structure, and the cob – a mixture of sand, clay, and straw – is used to create the walls.This home is quite different because it's a structural cob house, so the 2-foot thick walls are load-bearing, and they support the weight of the roof.Since it was built in a seismic zone, the home had to be engineered and built to withstand earthquakes.
It was built with curved walls to strengthen the structure, as well as with airplane cables that connect the wall plate to the foundation in order to resist lateral forces.Tonya and Leon built started to build this home in 2010 with the goal of creating a retreat where people could experience and learn about natural building techniques.
Advertisement
They worked unbelievably hard on the build itself, using their evenings, weekends, and holidays to construct it. They also worked closely with an engineer and with their municipality to ensure the structure would be legally permitted.The modern interior living space is approximately 1,000 square feet in size with an open-concept kitchen, dining, and living room, as well as 2 bedrooms, a mechanical room, and a bathroom. The retreat has been shared with visitors for nearly 10 years and will soon become a full-time home for its new owners.//Exploring Alternatives