The 2023 Mercedes-AMG G63 4×4 Squared is an insane $250,000 luxury monster truck. Today I'm reviewing the G63 4×4 Squared, and I'll show you all the quirks and features of this crazy truck. I'm also going to drive the 4×4 Squared, and I'll review the driving experience of the new G63 4×4 Squared.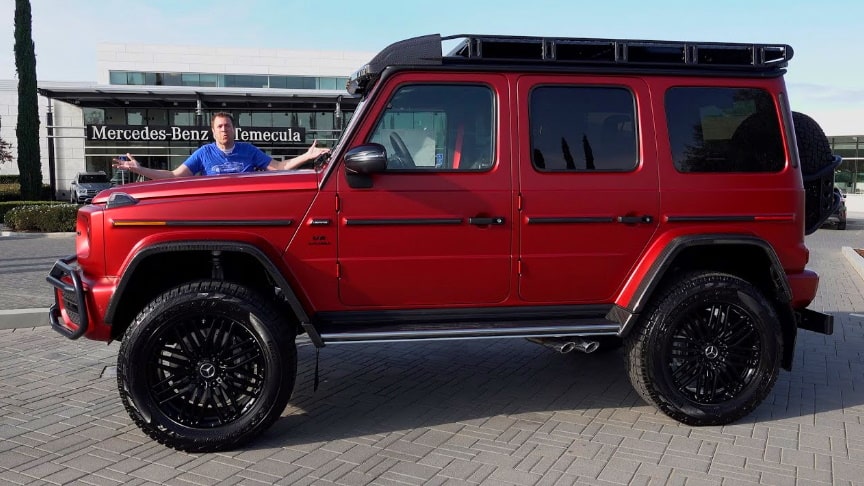 source/image: Doug DeMuro
The 4.0 litre V8 biturbo engine in the G 500 4×4² stands out for its sublime power delivery, the targeted lightweight construction, as well as its high efficiency. The newly developed eight-cylinder features twin turbochargers which are not mounted on the outside of the cylinder banks but rather inside the V configuration – what is known as the "hot inside V".
The advantages lie in the compact engine design, the optimum response and the low exhaust gas emissions.The V8 crankcase consists of an aluminium alloy and ensures maximum strength with the lowest possible weight. The cylinder walls in NANOSLIDE® technology are twice as hard as conventional cast-iron cylinder liners, minimize the inner friction and thus the fuel required and facilitate maximum mileages.
Advertisement
Twin sidepipes on both sides in front of the rear wheels modulate the G-typical sound of the G 500 4×4² and master the entire repertoire of potent sports cars – from soft mumbling in neutral through sonorous humming in the partial-load range to emphatic booming when accelerating under full load.