The Brubaker Box was a car designed by Curtis Brubaker. Brubaker got the idea from Volkswagen Minibuses, and attempted to update the concept. The body was designed to fit on the chassis of a Volkswagen Beetle. In 1972 after a deal with Volkswagen could not be reached, Brubaker began buying completed Beetles and converting them to Boxes, selling the excess pieces.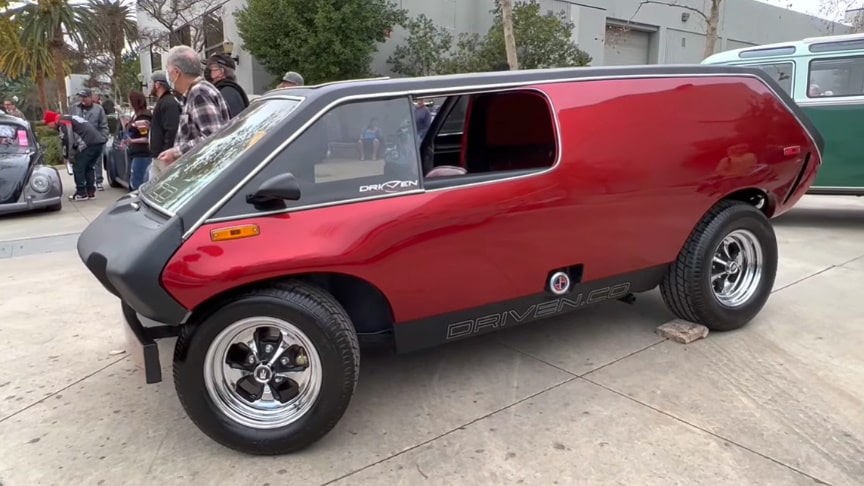 source/image: Robert Lewis
Constructed from fiberglass, the body was made from 13 inner and outer panels, including a floor panel, riveted and bonded together. The whole body was designed to bolt directly to an unmodified Volkswagen Beetle chassis. In the first prototypes stock front seats from Ford or Volkswagen were retained and a lounge-type seat was created for the rear of the vehicle. The Brukaber is powered by volkswagen-sourced air-cooled four-cylinder engine.
To add to the rear seating area, a footstool/cushion was added above the fuel tank. A single sliding door on the right side was the only entrance. The radio and switches were in the driver's side panel. Shock absorbing bumpers of composite construction were designed to look like curved wood. The spare wheel was mounted to absorb frontal crash energy.
Advertisement
For sunny days a large removable panel was positioned in the center of the roof panel.To reduce production costs, parts from other vehicles were used. Only 3 Brubaker Boxes were built. One became the Roamer, on the TV show Ark II. Approximately 25 additional boxes were built by Mike Hansen's AutoMecca, before production ceased. The front windshield was from an AMC Hornet, tail lights from a Datsun Truck and various other parts from a Chevrolet El Camino.