The Pirelli Ice Zero 2 is one of the best studded road tires money can buy on snow and ice, but how does it compare to a competition based WRC rally tire at over three times the price?To find out I'm testing the Pirelli Ice Zero 2 against the Pirelli SottoZero WRC rally tire from the 2021 Swedish rally event. The IceZero is 225/40 R18 and the WRC tire 205/65 R15.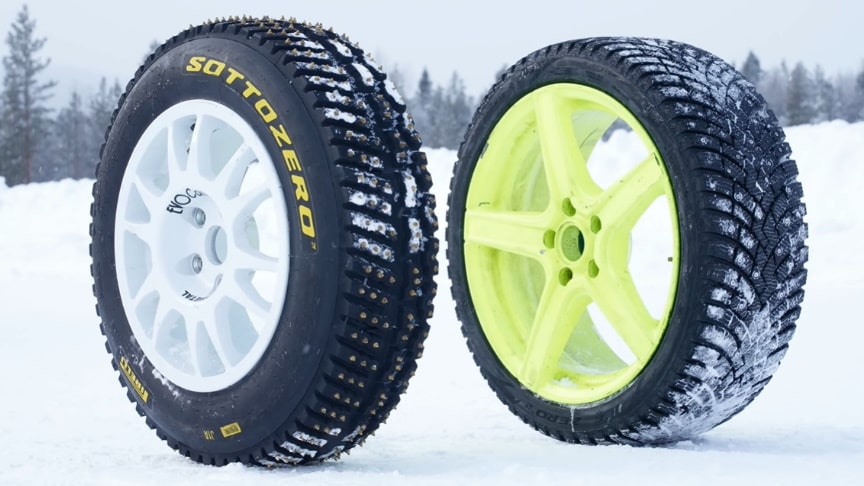 source/image: Tyre Reviews
Both tyres have a similar goal, and both tyres are heavily governed by different rule sets. The Pirelli IceZero 2 has been developed around the stud, a 10mm long tungsten carbide pinned monster with a 1mm protrusion. The studs are positioned to to optimise noise and grip, and the area around the stud is designed to keep snow away from the pin, which is very important for maximum traction. Watch the video from Tyre Reviews:
The biggest challenge for the road tyre is the road wear test, which every studded road tyre must pass to ensure the tyres don't do too much damage to the roads.The WRC tyre has no regard for the road, it just needs maximum grip in some of the toughest conditions possible. Rules limit the tyre to 12 studs per 10cm of travel and a 7mm stud protrusion.
Advertisement
It must fit on a 15×7″ wheel, which is no big sacrifice as the narrower tyre improves pressure helping it dig through to the surface below, and it uses a sharp flat profile to saturate the width of the footprint.