Today I'm reviewing the 2023 Mercedes-Benz EQE Sedan, which is a luxurious electric sedan. I'm going to show you all the quirks and features of the EQE Sedan, and I'll review the driving experience to show you what it's like behind the wheel.The EQE electrifies the essence of Mercedes-Benz values. Leadership in user-friendly technology and earth-friendlier power. Satisfaction for driver and passengers alike.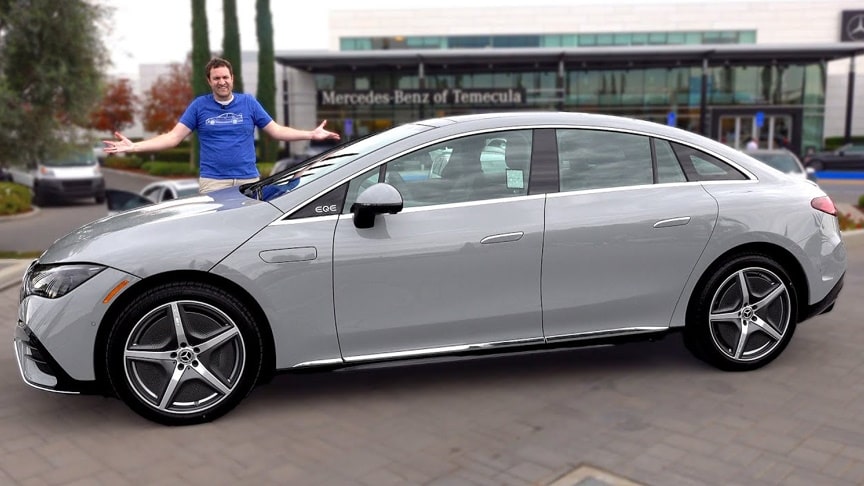 source/image: Doug DeMuro
The EQE Sedan is based on a platform whose architecture is dedicated to premium electric vehicles. A design not shared with any gasoline-powered model, its packaging, materials, aesthetics and safety systems are optimized not only to support its advanced all-electric powertrain.
The EQE 350+ Sedan is powered by an advanced 215kW electric motor that can send up to 288 hp and 391-ft of torque to the rear wheels. The "permanently excited synchronous motor" (PSM) features permanent magnets to generate AC current with high power density and efficiency. An advanced cooling system helps maintain its high-performance consistency during spirited driving and a wide range of climates.
Advertisement
The EQE cabin takes advantage of its all-electric architecture with a high-tech, high-touch approach. Surfaces flow to accentuate the passenger room, while sleek displays are poised amid rich materials. Elegant details include a rose gold vent strip spanning the dash, and upholstery with a draped effect.