Simply climb aboard and hit the road, make your way to your destination and feel like you've never left home. The HYMER Free 540 Blue Evolution edition model is the perfect introduction to the world of camping.A clever and flexible interior design concept means that there is plenty of room for up to four happy campers to be comfortable.The special paint finish in Storm Blue Metallic and Black lends this special edition a sporty and modern appearance.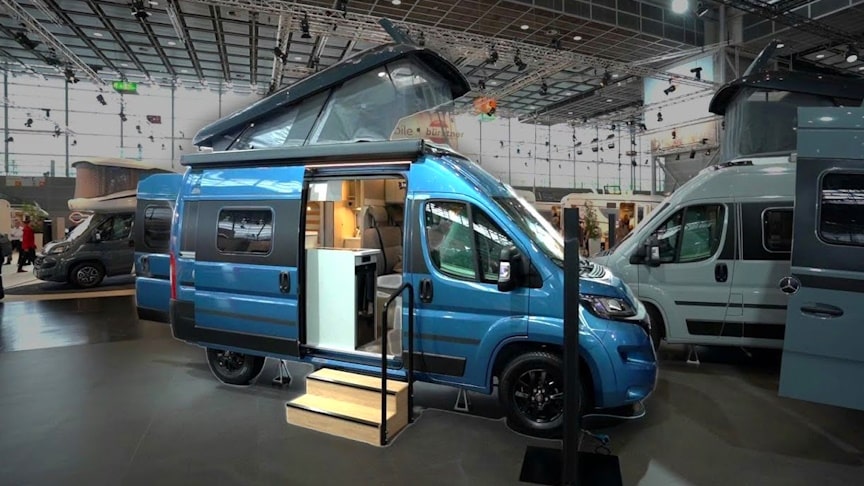 source.image: miniCampers
The HYMER Free 540 Blue Evolution is equipped with a pop-top roof, which means that it offers up to 4 berths, despite its compact layout and exterior length of just 5.41 m.Equipped with a complete bathroom including a wooden slatted shower tray in the shower, the HYMER Free 540 Blue Evolution offers you the same level of luxury as bigger motorhomes.
This means you can remain independent, even when off the beaten track.The 140 hp Fiat Ducato engine, a 90-litre fuel tank, LED daytime running lights, fog lights, cruise control and many other special features make the HYMER Free 540 Blue Evolution a durable and dependable companion on any trip.
Advertisement
With its modern, stylish design, the HYMER Free 540 Blue Evolution boasts a sporty appearance, which is accentuated by the bicolour exterior design featuring the Storm Blue Metallic special paint finish and black details, such as the pop-top roof, the 16″ alloy wheels, the design graphics around the windows on the side walls and on the rear, as well as the black highlights on the front.