In this video from The SEMA Show 2021 held in Las Vegas NV, I check out his very cool 1969 Ford Mustang Street Machine Pro Touring Hot Rod.It's covered in a beautiful Candy Red and trimmed with Chrome.The 1969 Ford Mustang was a very cool car right from the Ford factory so You want to be careful when You make any changes to it.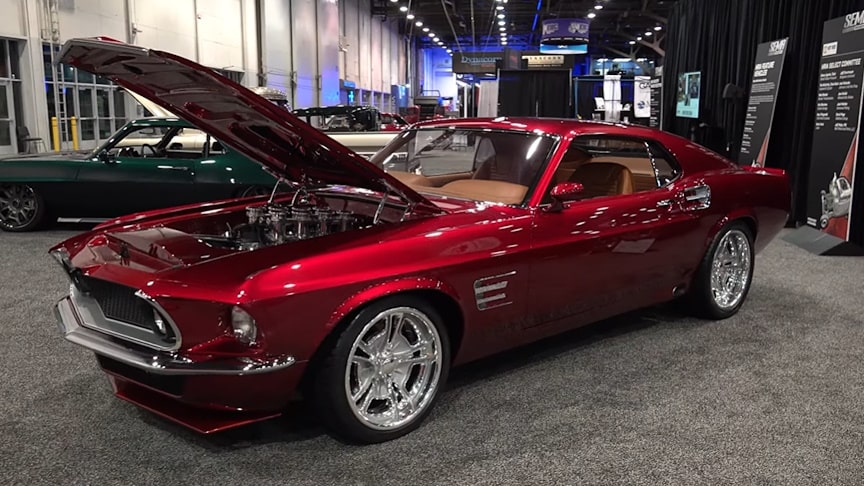 source.image: ScottieDTV
This 1969 Ford Mustang from the 2021 SEMA Show has had changes made to it from the front bumper to the rear.Some are obvious.Some You will need to see a stock 69 Mustang next to this one to see the difference.In my opinion all the changes were done to a high level and in good taste.The interior is all leather and all custom.
Kind of a Caramel color that works really well with the Candy Red of the body.Wheels are always a personal choice and no one set will please everyone.I dig the size and style of the ones that they chose to run on this 1969 FORD Mustang from the SEMA Show 2021.
Advertisement
Up under the custom hood a Jon Kaase Boss 505 with stacked injection and a very clean install.The underside is as nice as the top and all upgraded to the latest technology so all that Kaase power can make it to the ground.And handle the curves when Your out for a cruise. This 1969 Ford Mustang from the 2021 SEMA Show is a very cool car for sure.