Midwest Automotive Designs transforms the engineering integrity of Mercedes-Benz Sprinter Vans to an entirely new level of craftsmanship and innovation. Step inside the Passage RV Camper Van, and the abundance of luxurious appointments make an immediate impression. Solid surface countertops with an induction cook top. A power fold-out lounge sofa tailored in plush fabric.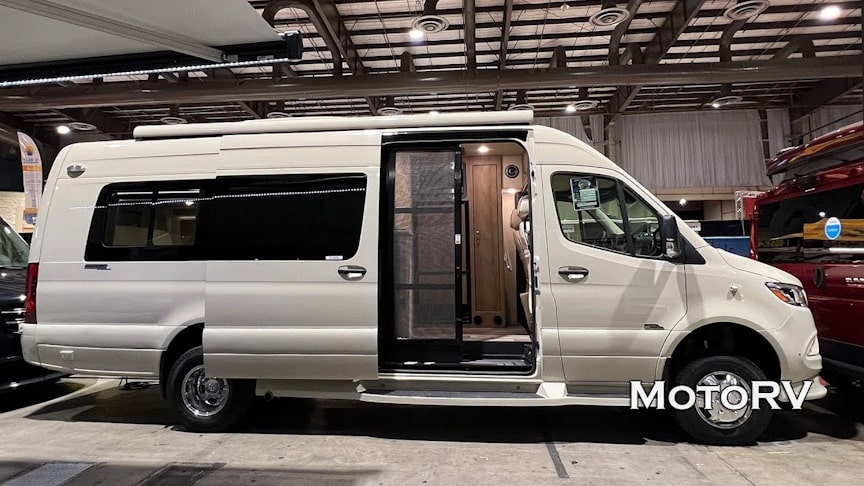 A refrigerator, HD TV screen and arsenal of intuitive electronics prepped for satellite TV, Wi-Fi and more. Look closer at the exquisite fit and finish: Hand-stitched plush fabric seating and Wooden Vanier cabinets with hidden hinges confirm the luxury pedigree of Midwest Automotive's craftsmen.
That inviting sense of comfort you're feeling? It extends from swiveling plush fabric captain's chairs in the front cabin to a privacy shade package and elegant modern interior lighting in the rear compartment. Air conditioning keeps you cool during weekend wilderness excursions, while a tankless water heater ensures instant hot water on demand.
Advertisement
And your Passage luxury van conversion starts with the legendary safety and performance engineering of the Mercedes-Benz Sprinter – the ideal van for exploring your idea of fun in high style.The motorhome is powered by a 4 cyl. 2.0L Turbo Diesel engine.