"As the world's first 4-seater Megacar, defined by its awe-inspiring power of over 1 megawatt, the Gemera was already a striking feat of engineering. However, the Client Specification version takes it even further with pioneering advancements.However, during the development process, the Light Speed Transmission (LST) was introduced in the acclaimed Jesko, which delivers unparalleled excitement and performance. "We could not resist exploring the possibility of incorporating these remarkable features and benefits into the Gemera production model, leading us down an exciting new development path — the Light Speed Tourbillon Transmission (LSTT)," explains Christian.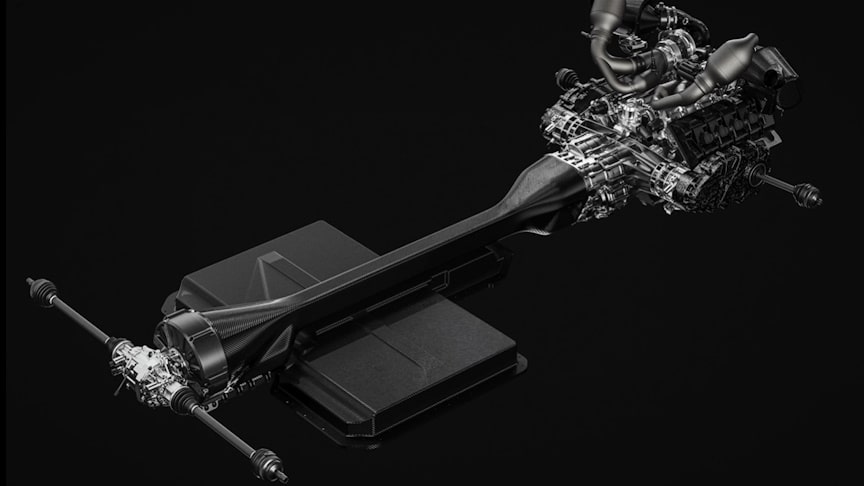 source.image(PrtSc): Engineering Explained
To complement the engine and the LSTT, the R&D team has also developed the "Dark Matter" E-motor – an 800 hp, 1250 Nm patent-pending Raxial Flux E-motor that is an evolutionary leap in electric propulsion, representing the world's most powerful automotive-grade E-motor with 6-phase technology. One Dark Matter is now paired with the LSTT, instead of 3 Quarks E-motors with the Direct Drive system. This makes the drivetrain lighter, smaller, and even more engaging. The LSTT four-wheel drive system with four-wheel torque vectoring can be powered by either the 800 hp Dark Matter E-motor or the twin-turbo TFG, or a combination of the two, resulting in a maximum output of 1400 hp and 1850 Nm.
However, the layout of the LSTT allowed us to do it. To make it happen, we had to convert the Jesko V8 into a so-called Hot V8 where the exhaust exits at the top center, but otherwise, it is very similar to the Jesko engine. With this new engine configuration, the Gemera boasts an astounding 1500 hp from the HV8 in addition to the 800 hp provided by the Dark Matter E-motor, resulting in a total of 2,300 hp and 2,750 Nm of torque – a new world record for a production car.
Advertisement
"The Gemera HV8 is not only the most powerful and extreme production car on the planet Earth, with an astonishing 1,11 hp per kg, but it is also the most practical and user-friendly sports car ever created. Its incredible response, handling, engine sound, crisp transmission, spacious interior, and four-wheel-drive systems combine to create an unprecedented and unparalleled driving experience, ready to set numerous records of performance around tracks and in straight lines. We are extremely proud to have brought the Gemera HV8 to life and very much look forward to delivering this new level of performance and technology to our esteemed clients and fans," says Christian."