A 3D animation showing how a Remington 870 pump-action shotgun works. Pump action or slide action is a repeating firearm action that is operated manually by moving a sliding handguard on the gun's forestock. When shooting, the sliding forend is pulled rearward to eject any expended cartridge and typically to cock the hammer/striker, and then pushed forward to load (chamber) a new cartridge into the chamber.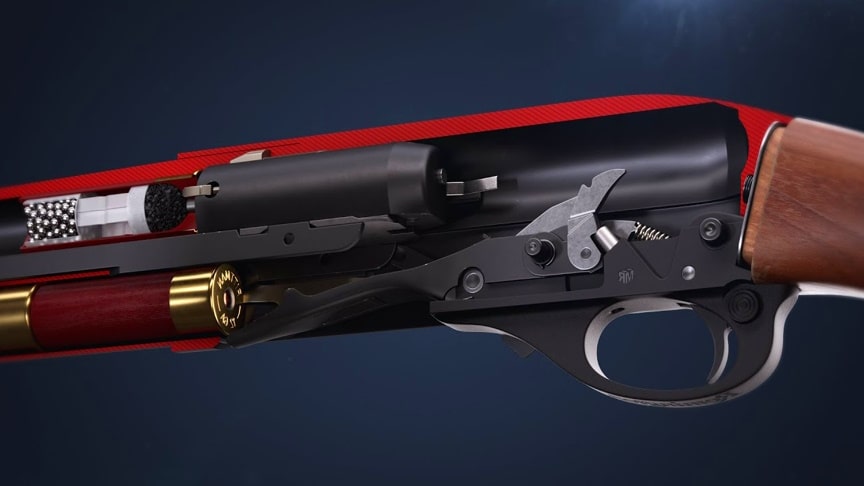 Most pump-action firearms use an integral tubular magazine, although some do use detachable box magazines. Pump-action is typically associated with shotguns, although it has been used in rifles and other firearms as well.Pump action (sometimes called slide action): the shotgun's forend or another handle is retracted by the shooter's support hand, which opens the breech, ejects a spent cartridge, and when returning the forend to its forward position, chambers a fresh shell from the magazine.This action must be performed before every shot.
After firing a round, the bolt is unlocked and the forend is free to move. The shooter pulls back on the forend to begin the operating cycle. The bolt unlocks and begins to move to the rear, which extracts and ejects the empty shell from the chamber, cocks the hammer, and begins to load the new shell.
Advertisement
As the forend reaches the rear and begins to move forward, the elevator lifts up the shell, lining it up with the barrel. As the bolt moves forward, the round slides into the chamber, and the final portion of the forend's travel locks the bolt into position. A pull of the trigger will fire the next round, where the cycle begins again.Cinema 4D was used to create each individual part, as well as animating everything. Substance Painter was used to create the wood stock and fore-end textures. Corona renderer was used for final output of lighting and textures.